S.Africa's Precious Moloi-Motsepe, Champion Of African Fashion
Johannesburg, South Africa's gorgeous Moloi-Motsepe, one of the richest women in Africa, is a staunch promoter of fashion designers from a young, vibrant and culturally diverse.
Style has run through her veins since she was a child growing up in Soweto, and for her it's time for "African designers to shine" on the international platform.
A decade and a half ago, she founded the Johannesburg and Cape Town Fashion Weeks, which bring together designers from across the continent to represent them on the world stage.
Her goal is now beginning to bear fruit, she told AFP with a confident smile at a new luxury boutique in an affluent area of ​​Johannesburg, South Africa's economic capital.
"Now more than ever, African designers are being recognized at home," the 58-year-old said, as she donned elegant makeup and wore loose black pants with a silk blouse.
"At the big events on the continent, music awards, football events, you will see celebrities dressed in clothes from local designers," said Patrice Motsepe, wife of the president of the African Football Confederation. "They definitely have become household names."
Along with her husband, who ranks ninth on Forbes' list of the richest people in Africa, they are South Africa's most famous "power couple."
Elsewhere, "celebrities, Michelle Obama or Beyoncé … are now wearing African brands," she said, adding that the Black Panther-related phenomenon in Wakanda "spread our culture, our heritage to the world." impact on driving fashion.
Moloy-Motsepe grew up in Soweto, a poor town that was a hotbed of resistance to the apartheid regime. It was there that she acquired a sense of style.
"My grandmother made her own clothes … and she wore them so elegantly," she said. Soweto "people loved to dress up", although they were closely associated with and followed American trends and brands.
Later, she had the opportunity to travel and visit the Paris fashion show of the talented designer John Galliano.
It was a shocking discovery when I realized that designers "take inspiration from history, heritage, culture, which I thought was abundant in Africa."
Africa seemed to be an inspiration to Western designers, "but I didn't see many African designers on the runway," she said.
"Changed Mindset": This was the impetus for creating a space to "promote global recognition of the best African authors", a project that the MD turned philanthropist and financier of the creative arts launched with energy.
"First, I had to make sure that they were well recognized here at home so that we could change the mindset, make people appreciate and appreciate African fashion designers," not only as tailors, but also as respected designers.
It was an ambitious task, not yet done, but already underway.
"African consumers now recognize that their own designers are no less valuable than the brands they buy globally," she said.
Showcasing at Johannesburg Fashion Week last week was Cameroonian fashion designer Anna Ngann Yonn, whose label Kreyann is making a name for itself in Afrialsok and beyond.
The fashion weeks he launched in South Africa, featuring supermodels like Alek Wek from South Sudan and prestigious guests from New York, Milan and Paris, allowed designers to "showcase their work, network with other designers and gain media attention ".
The next phase of the mission is to take them to "international platforms" to ensure Africa's presence in the global fashion dialogue. Africans in the diaspora play a key role as ambassadors.
The businessman recalls how various African designers were exhibiting alongside fashion shows in Paris a few years ago.
Some of the reviews were "positive, some not so positive," he said, laughing softly. But "we take it as a step in the right direction."
"For young designers and those of us who were considered established designers then and still are, voice was important," Moloy-Motsepe said.
Africans are still underrepresented among the big global brands. And in many parts of Africa, foreign sports brands remain a symbol of social success, he agreed.
"We have a lot of work to do," he said, but the African fashion advocate is not deterred.
The Meaning and Symbolism of Atom Tattoos: Exploring the Fascinating World of Science-Inspired Body Art
If you're looking Atom Tattoos for a unique and meaningful tattoo design, you might want to consider an atom tattoo. These tattoos are inspired by the fascinating world of science, and they can hold a variety of different meanings and symbolisms. In this article, we'll explore everything you need to know about atom tattoos, including their history, design options, and cultural significance.
The History of Atom Tattoos: From Science Fiction to Pop Culture
Atom tattoos have a relatively recent history compared to other tattoo designs. They first gained popularity in the 1950s and 1960s, when science fiction movies and TV shows started featuring atomic energy as a central theme. As the world entered the atomic age, people became fascinated by the potential of nuclear power, and atom tattoos were a way to express that fascination.
In the following decades, atom tattoos became more mainstream, especially among people who were interested in science and technology. They were often paired with other science-inspired symbols, such as DNA strands, molecules, and circuit boards. Today, atom tattoos continue to be a popular choice for people who want to showcase their love for science and their appreciation for the mysteries of the universe.
Design Options for Atom Tattoos: Exploring the Different Styles and Meanings
Atom tattoos come in many different styles and designs, ranging from simple and minimalist to complex and detailed. Here are some of the most popular design options for atom tattoos:
Basic Atom Symbol Tattoo
The most common design for an atom tattoo is a simple representation of the atom symbol. This design consists of a circle with three small circles inside, representing the protons, neutrons, and electrons that make up an atom. This tattoo is often done in black ink and placed on the wrist, ankle, or behind the ear.
3D Atom Tattoo
For a more realistic and detailed representation of an atom, you might want to consider a 3D atom tattoo. This design features a three-dimensional representation of the atom, complete with shading and highlights to make it look more lifelike. This tattoo is often done on the upper arm or the back.
Atom and Nature Tattoo
If you want to combine the beauty of nature with the power of science, you might want to consider an atom and nature tattoo. This design features an atom symbol with leaves, flowers, or other natural elements woven around it. This tattoo is often done on the back or the thigh.
Atom and Space Tattoo
For a tattoo that celebrates the mysteries of the universe, you might want to consider an atom and space tattoo. This design features an atom symbol with stars, planets, or other celestial objects surrounding it. This tattoo is often done on the upper arm or the back.
The Symbolism of Atom Tattoos: Understanding the Meaning Behind the Design
Atom tattoos can hold a variety of different meanings and symbolisms, depending on the individual's personal beliefs and experiences. Here are some of the most common interpretations of atom tattoos:
The Power of Science and Technology
For many people, an atom tattoo is a way to showcase their love for science and their appreciation for the power of technology. It represents their belief in the potential of human innovation and progress, and their desire to be part of that process.
The Beauty of the Universe
For others, an atom tattoo is a way to celebrate the beauty of the universe and the mysteries of the cosmos. It represents their fascination with the natural world and their desire to explore and understand it.
The Importance of Balance
Some people interpret the atom symbol as a representation of balance and harmony. The protons and electrons in an atom are always in balance, and this can be seen as a metaphor for
Continue writing please
the importance of finding balance in one's own life. An atom tattoo can serve as a reminder to strive for equilibrium and harmony in all areas of life.
The Fragility of Life
For some, an atom tattoo can represent the fragility of life and the importance of cherishing every moment. Atoms are the building blocks of all matter, and they remind us that everything in life is impermanent and constantly changing.
A Tribute to Loved Ones
Finally, an atom tattoo can also serve as a tribute to loved ones who have passed away. Atoms are the fundamental particles that make up all living beings, and this design can represent the belief that our loved ones are still with us, even after they're gone.
Getting an Atom Tattoo: Tips for Choosing the Right Design and Artist
If you're considering getting an atom tattoo, here are some tips to help you choose the right design and artist:
Do Your Research
Before you get an atom tattoo, take the time to do some research on different design options and styles. Look for inspiration online or in tattoo magazines, and think about what meaning you want your tattoo to convey.
Find a Skilled Tattoo Artist
Once you have a design in mind, it's important to find a skilled tattoo artist who can bring your vision to life. Look for an artist who specializes in science-inspired tattoos, and check out their portfolio to see examples of their work.
Choose a Location
Consider where you want to place your atom tattoo, and choose a location that works well with the size and design of the tattoo. Keep in mind that some areas of the body are more sensitive than others, so be prepared for some discomfort during the tattooing process.
Take Care of Your Tattoo
After you get your atom tattoo, it's important to take good care of it to ensure it heals properly. Follow your tattoo artist's aftercare instructions, and avoid exposing the tattoo to sunlight, water, or other irritants while it's healing.
Conclusion
Atom tattoos are a fascinating and meaningful design option for anyone who loves science and appreciates the mysteries of the universe. Whether you choose a simple atom symbol or a complex design that combines science and nature, your tattoo can represent your beliefs, values, and personal experiences. Just remember to take the time to choose the right design and artist, and to take good care of your tattoo after it's done.
FAQs
Are atom tattoos only for science enthusiasts?
No, anyone can get an atom tattoo as it can hold a variety of different meanings and symbolisms.
How painful is getting an atom tattoo?
The pain level of getting a tattoo varies depending on the location and individual's pain tolerance, but it is generally manageable.
Can I design my own atom tattoo?
Yes, you can work with your tattoo artist to create a custom design that reflects your personal beliefs and experiences.
How long does an atom tattoo take to heal?
The healing process for a tattoo typically takes around 2-4 weeks, depending on the size and location of the tattoo.
Can I cover up an old tattoo with an atom tattoo?
Yes, an experienced tattoo artist can cover up an old tattoo with a new design, including an atom tattoo.
Tips For Shopping For Mother-of-the-Bride Dresses
There are a lot of factors to consider when shopping for a mother-of-the-bride dress. These include the venue, time of year, and color scheme.
You want to find a dress that complements the bride without taking away from her big moment.
Style
As a bride's mother, you'll want to feel elegant on your daughter's big day. That means sticking to a dress appropriate for the wedding's theme and formality and the season.
You'll also need to consider the color scheme of her wedding party attire. It's generally best to choose a shade that will complement hers, but you can opt for a similar tone or a different hue if she has chosen to have her attendants in a contrasting color (like silver or navy).
With so many options you can now find in online shops like Tadashishoji.com, it might take a lot of work to figure out where to start. But we've rounded up our favorite shoppable styles and designer brands to help you find the perfect outfit.
Fabric
A dress is only as good as its fabric, so choosing a suitable material for your special day is essential. A light, airy gown will look best at a beach wedding, while something thicker is excellent for an autumn ceremony in the snow.
Choosing the suitable fabric will also depend on your body type and the style of the wedding you're attending. If you're petite, opt for a streamlined silhouette with a sleeveless design.
For those with a more curvy figure, consider a slip dress in a soft stretch crepe. This fabric is versatile and flattering, and it pairs well with many different types of accessories.
Whether you're looking for something formal or casual, we have the perfect Mother-of-the-Bride dresses to fit any style. Please browse through our selection of designer styles and find the perfect one for your big day!
Length
The length of mother-of-the-bride dresses is a personal choice, but most mothers prefer long gowns. They can be just as elegant as shorter dresses and come in various styles, fabrics, and colors.
Regardless of your preferred length, you should choose a dress that compliments the wedding venue, color palette, and dress code. For example, floor-length gowns are ideal for formal fall and winter events, while short dresses in light lace or pastels work best for casual spring and summer weddings.
Consider a knee-length mother-of-the-bride dress if you want to show off your legs. These dresses are the perfect option for hot weather or outdoor weddings and come in various designs and colors.
Shoulders
Shoulders are essential to any wedding, and the right style can elevate your look. The shoulder girdle is composed of the glenohumeral joint (upper), acromioclavicular joints (lower), and the sternoclavicular joint (between the ribs).
Shoulder muscles serve various purposes, including raising, lowering, and rotating the arm. The main shoulder muscles include the rhomboid, trapezius, and deltoid.
The shoulder muscles are made of many elastic fibers, which help them contract or tighten as needed. They also have red and white striated muscle fibers, which give them a striped or banded appearance.
There are many different styles and designs to choose from for mother-of-the-bride dresses. Trends include asymmetrical hems and sleeves, high-low capes, and more.
Arms
You'll likely have to do a little shopping if you're in the market for a mother-of-the-bride dress. Aside from selecting a dress that fits you, it's also essential to consider the theme and tone of your daughter or son's special day. If you're attending a beach wedding, you'll want to opt for something more lightweight and airy. You may veer towards a more formal style if you're going for an indoor ceremony. If you're looking for a stylish alternative to the traditional matronly gown, check out our selection of modern and contemporary designs.
It's no secret that moms and dads are hunting for a chic, fashionable look for an event of this magnitude. Thankfully, retailers such as M&S have a well-rounded collection of high-fashion attire, so you will have options. The best part is that you don't need a hefty bankroll to shop for a dress that will help you stand out from the crowd.
Pants
A pantsuit is stylish and flattering for mothers-of-the-bride on the wedding day. It is also convenient as you can quickly move around the venue and carry out all the tasks you have to do.
Mothers-of-the-bride can choose from various fabrics and designs. For example, you can opt for satin, cotton, and chiffon in lighter shades, which are appropriate for weddings in warmer climates.
You can even opt for a formal pantsuit set to dress up your style. These sets can come in various colors and designs and are generally more formal than other options.
A mother-of-the-bride can wear a pantsuit to any wedding, and it can look as good as a dress or more sophisticated. However, you should ensure that you are comfortable and look great in the suit.
15+ Amazing Kiddies Braid Hairstyles You Must Try in 2023!
Braiding of hair is well-known and healthy too, as it makes them the most adorable protective Kiddies Braid Hairstyles for your baby girl's natural hair. These soft and elegant plaits help retain moisture in your child's hair, preventing it from drying out and promoting healthy hair development. There are numerous braided hairstyles to choose from that can complement your child's personality, so you can never go wrong with these incredibly lovely kids' braids. Let's go through some of the amazing kiddie braid hairstyles to do for your child.
17 Top Kiddies Braid Hairstyles Worth Trying
We have combined some fantastic beaded braided hairstyles for your girls. Girls of all ages can do these kids' braided Kiddies Braid Hairstyles since they are cute and beautiful. Adore it by adding beads, whether it is one braid, two braids, feed-in braids, or cornrows. Your daughter will have a stunning appearance. These kid's braid hairstyles will look wonderful on your daughter and can also be done on natural hair, regardless of whether she is dark or fair-skinned.
1. Kids Braids with Beads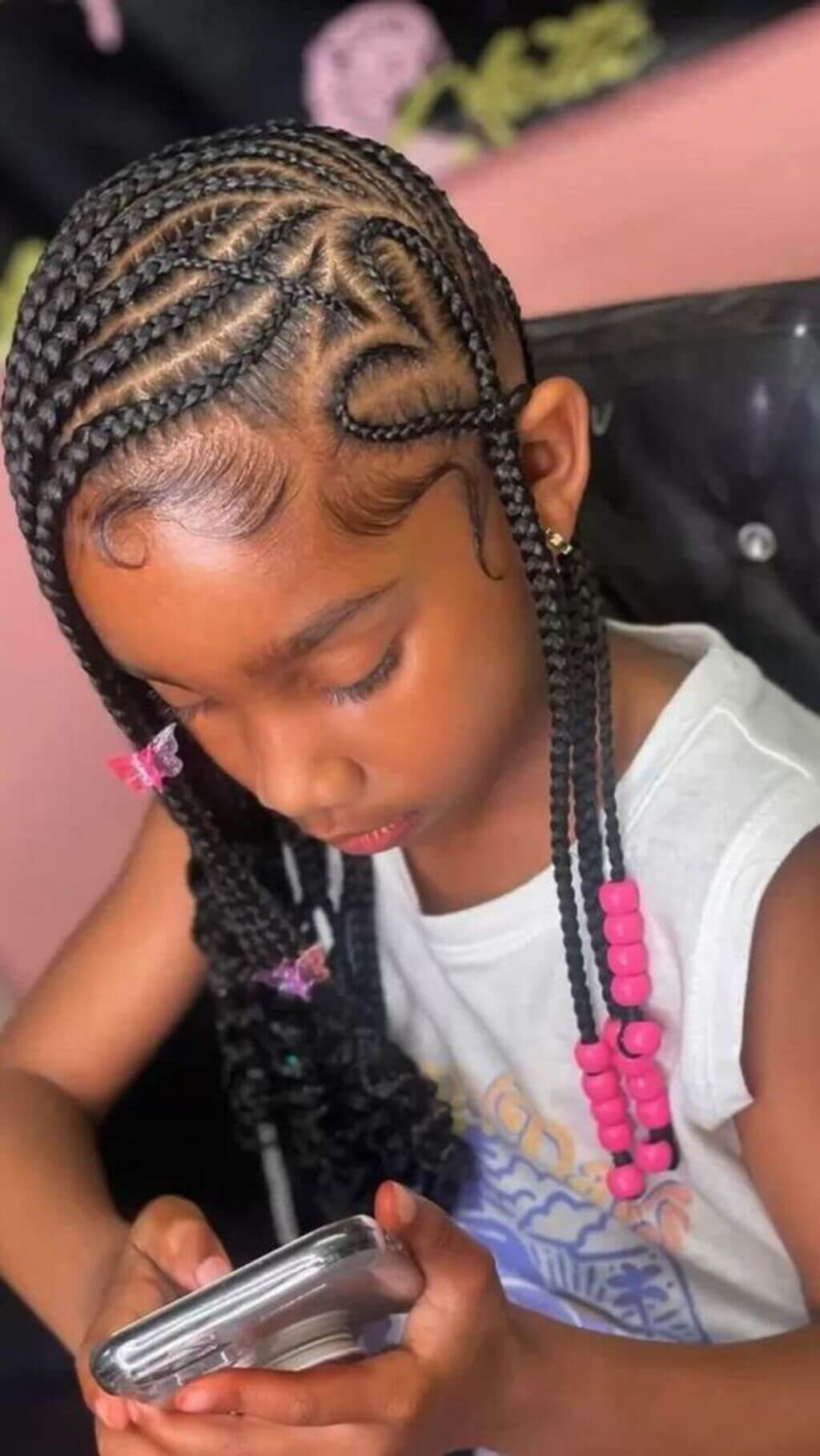 Source: pinimg.com
Kids want to express their individuality, and one of the finesse ways to do so is by wearing amusing hair accessories! When your child enjoys vivid colors or rainbows, beads are a great way to distinguish their cornrow braids. Classic front-to-back cornrows are not only fashionable but also functional.
They begin with a simple braiding pattern so that you may simply master the technique at home. Second, they are a protective style for Afro-textured hair, and finally, they may be kept in for two weeks, saving you time dressing your child's hair every morning.
2. Beaded Mohawk Cornrows Kids Hair Style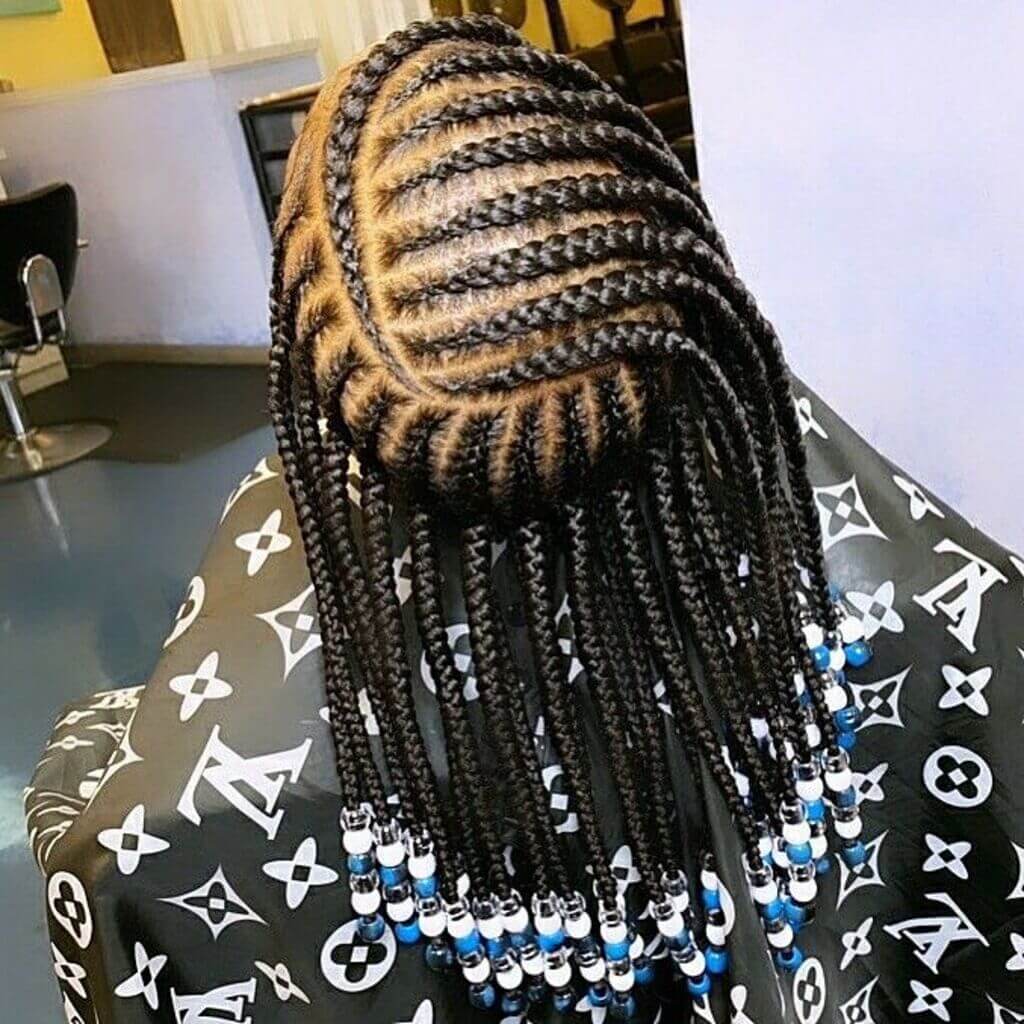 Source: pinimg.com
Due to the complexity of the hairstyle, it is only ideal for children who enjoy having their hair done. If you don't want to deal with such complexity, make the separation and hairstyles basic. They could adopt this hairstyle in their everyday routine.
3. Ponytail with Vibrant Kids Hair Style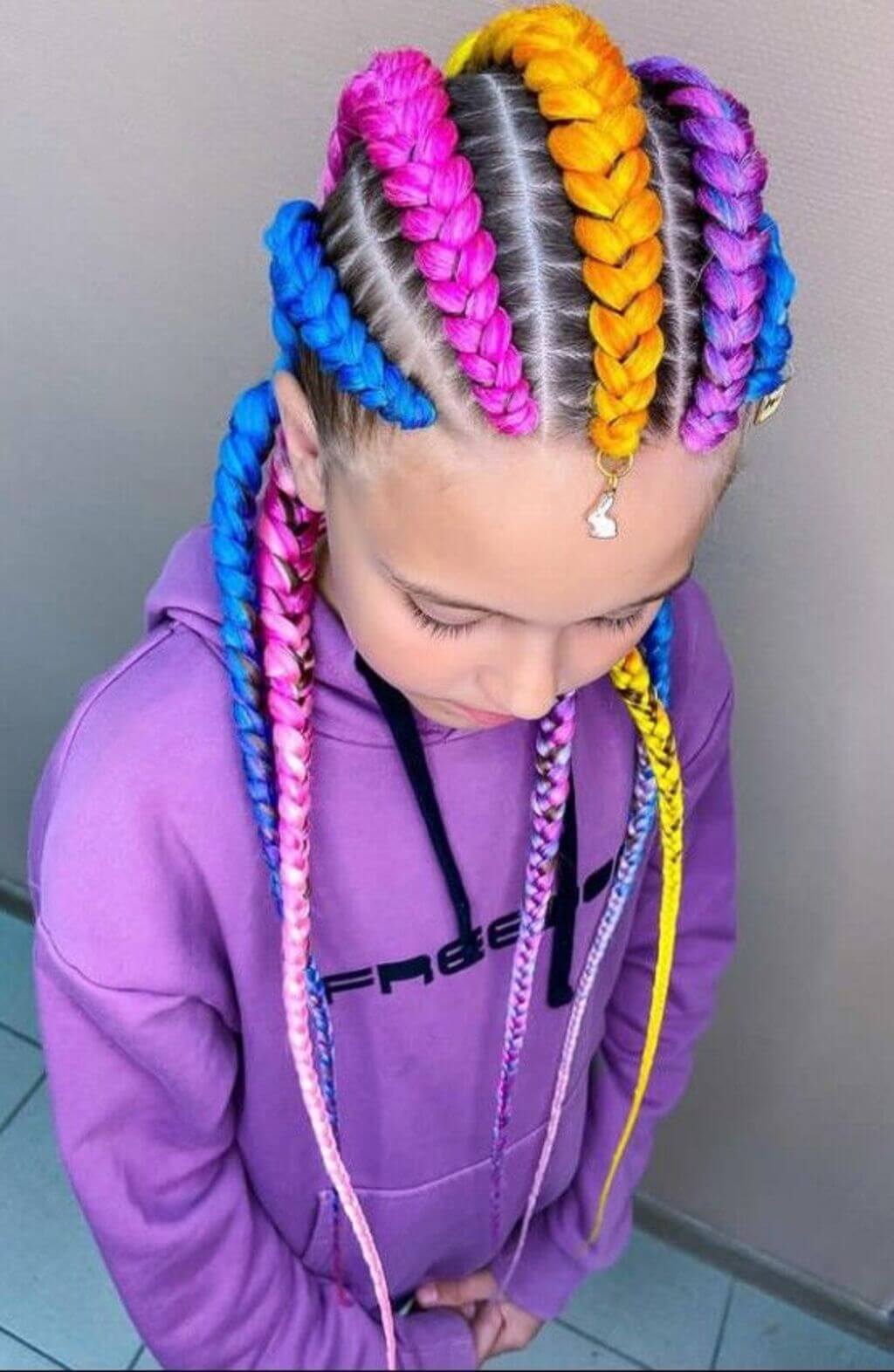 Source: pinimg.com
Ponytails are one of the most popular hairstyles for both adults and children. When properly styled, it looks charming on toddlers. These small girl braids with beads are suitable for youngsters aged 2 to 5 years. You will build a beautifully braided hairstyle with a few well-placed beads to give flare to an already excellent look. After all, your child does not have to wear their braids loose to seem fashionable.
4. The Curled Cute Braids for Kids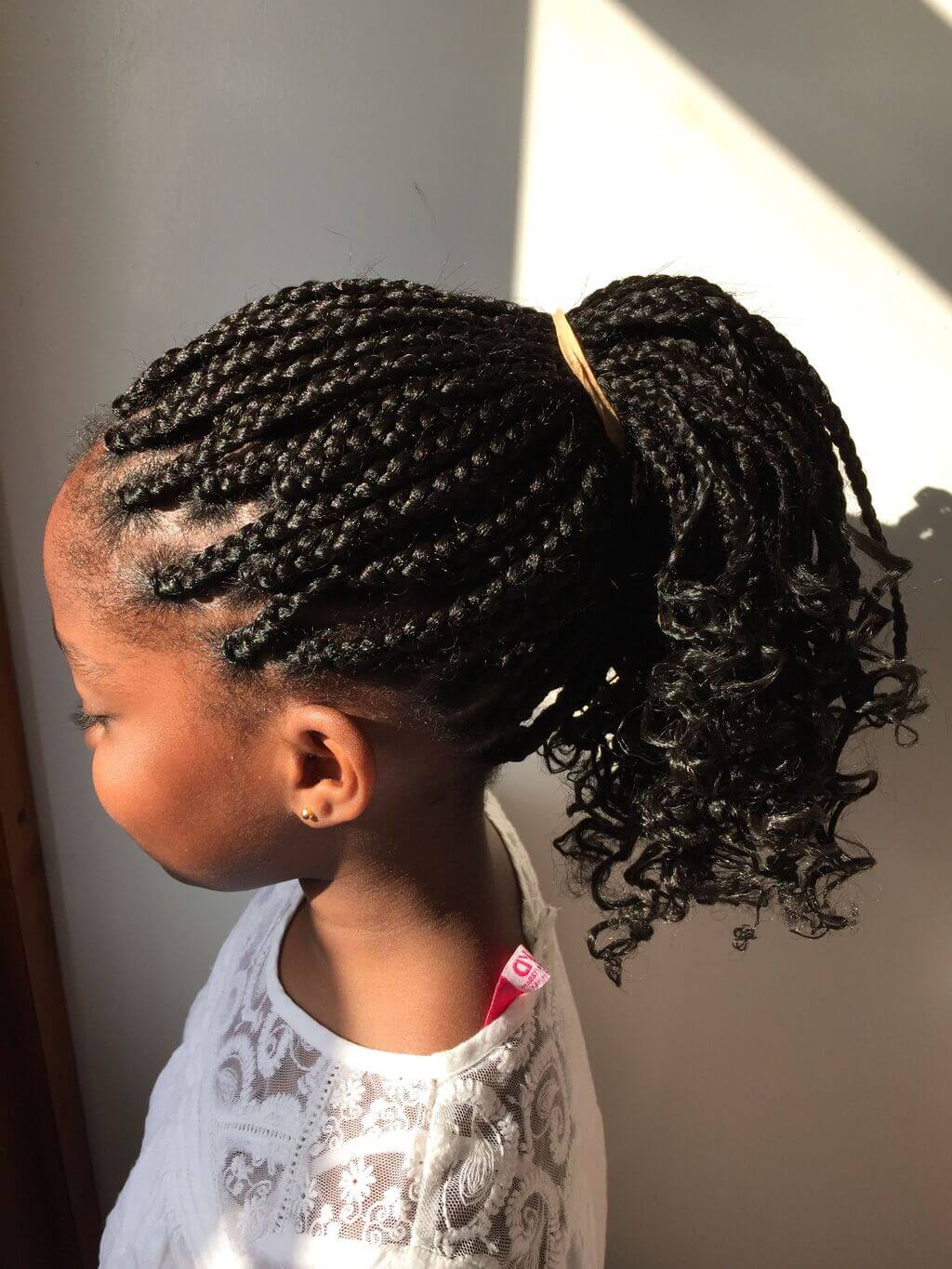 Source: pinimg.com
When plain ponytails became too common, one mother came up with the brilliant idea of incorporating braids into the ordinary pony to liven up the appearance. This is a simple hairstyle that begins with arranging your hair into a ponytail and then tying it with a band. Now, take a healthy strand and braid it tightly from one side. Snake the braid around the pony and secure it at the end without securing the end. This is one of the most recent and attractive braided hairstyles for tiny girls.
5. Bob Cute Braids for Kids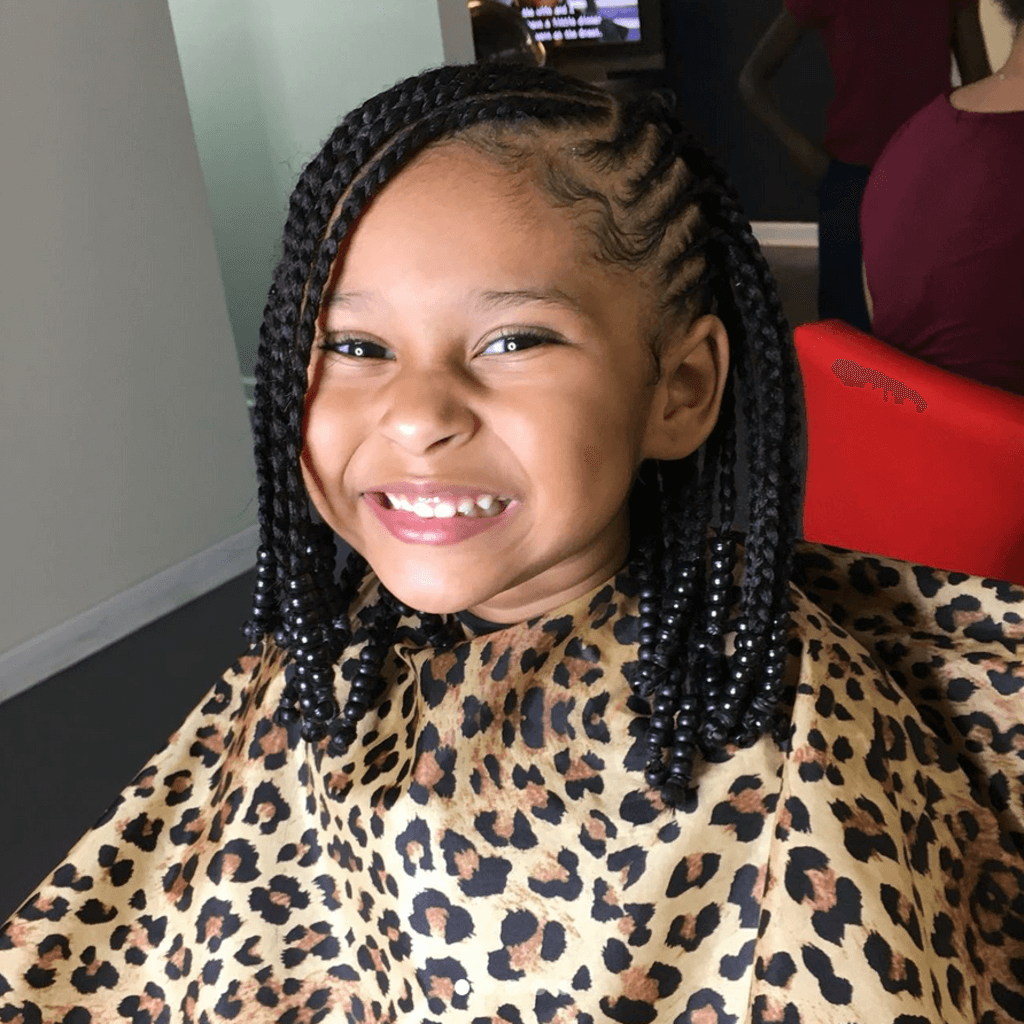 Source: pinimg.com
This kid's braid hairdo looks very cute and desirable. It is ideal for children since it is simple and keeps them out of their way. This might also be a cute haircut for school or a children's party. This hairstyle is perfect for outings and small get-together occasions.
6. Braided Double Children's Braids Black Hairstyles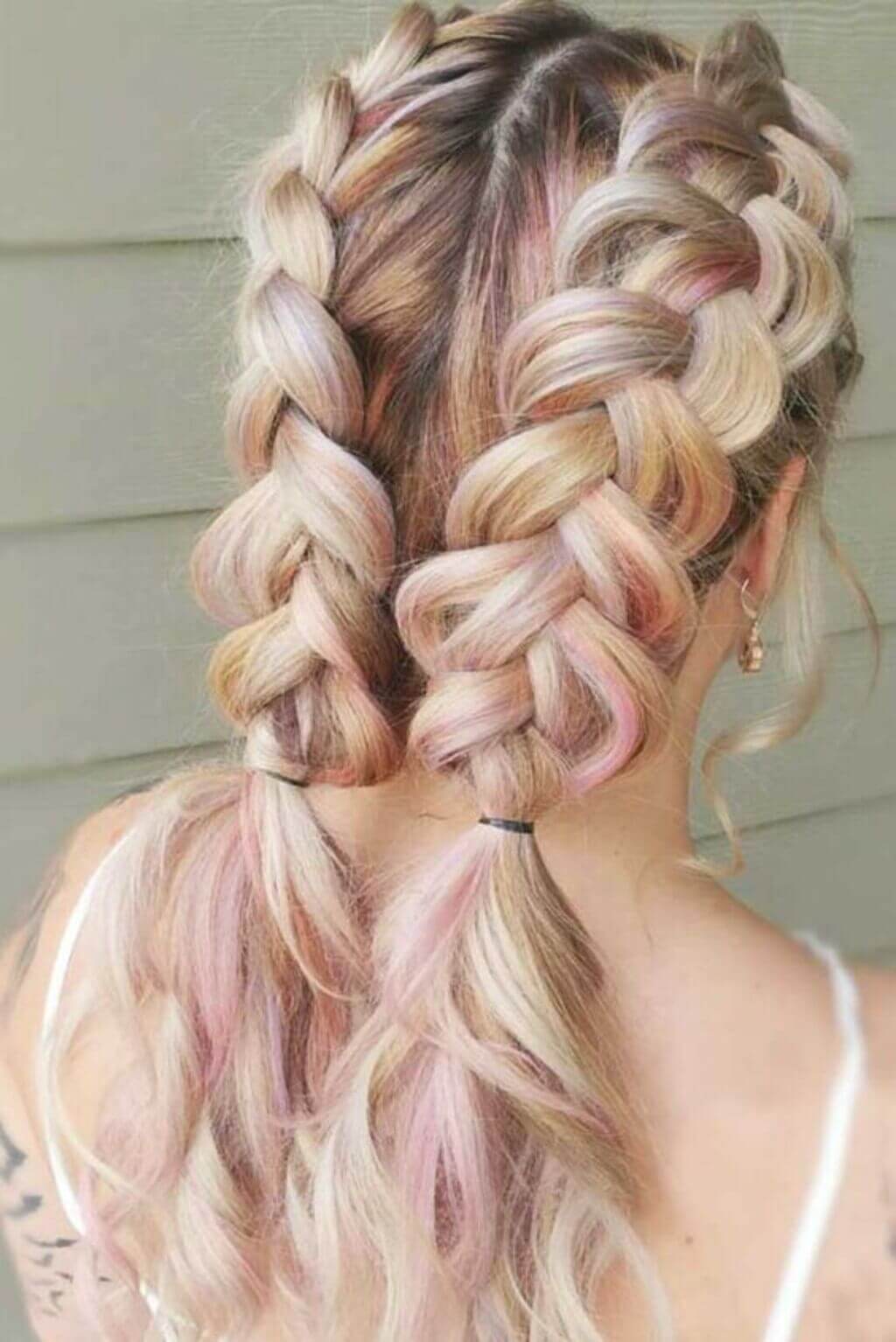 Source: pinimg.com
This hairstyle looks adorable and all you need is a professional hairstylist to accomplish this for you; an extension may be added if your child's hair structure is not strong enough or if you want it longer, but you may do this with only her hair and it can be extremely lovely.
7. Short Pigtails with Twists Children's Braids Black Hairstyles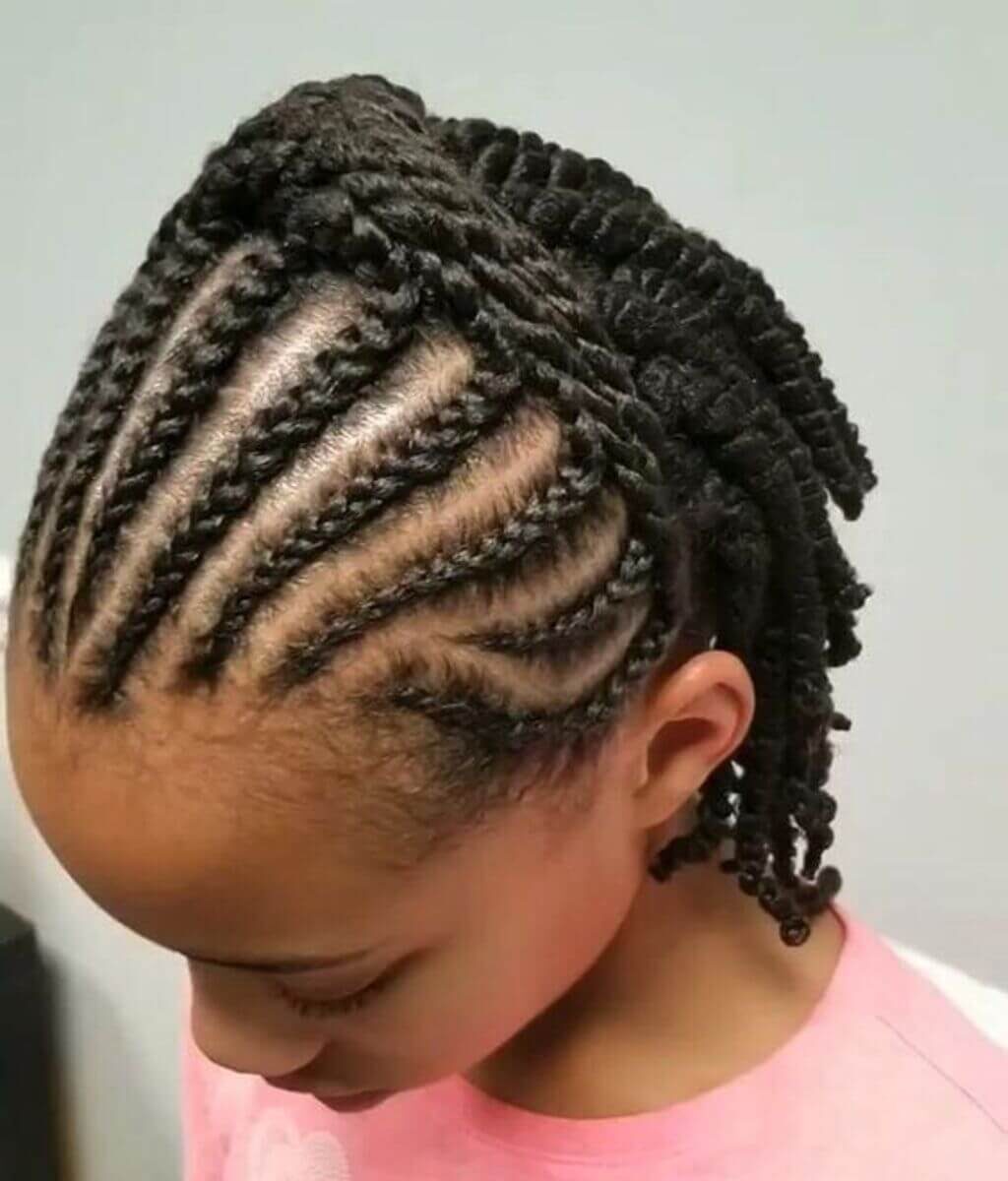 Source: pinimg.com
Pigtail hairstyles provide your girl with a very attractive and appealing appearance. Whatever you want it to be, add some sparkle with beads. You will appreciate the appearance, whether it is a tight or relaxed cornrow.
8. Natural Hair Braided Top Bun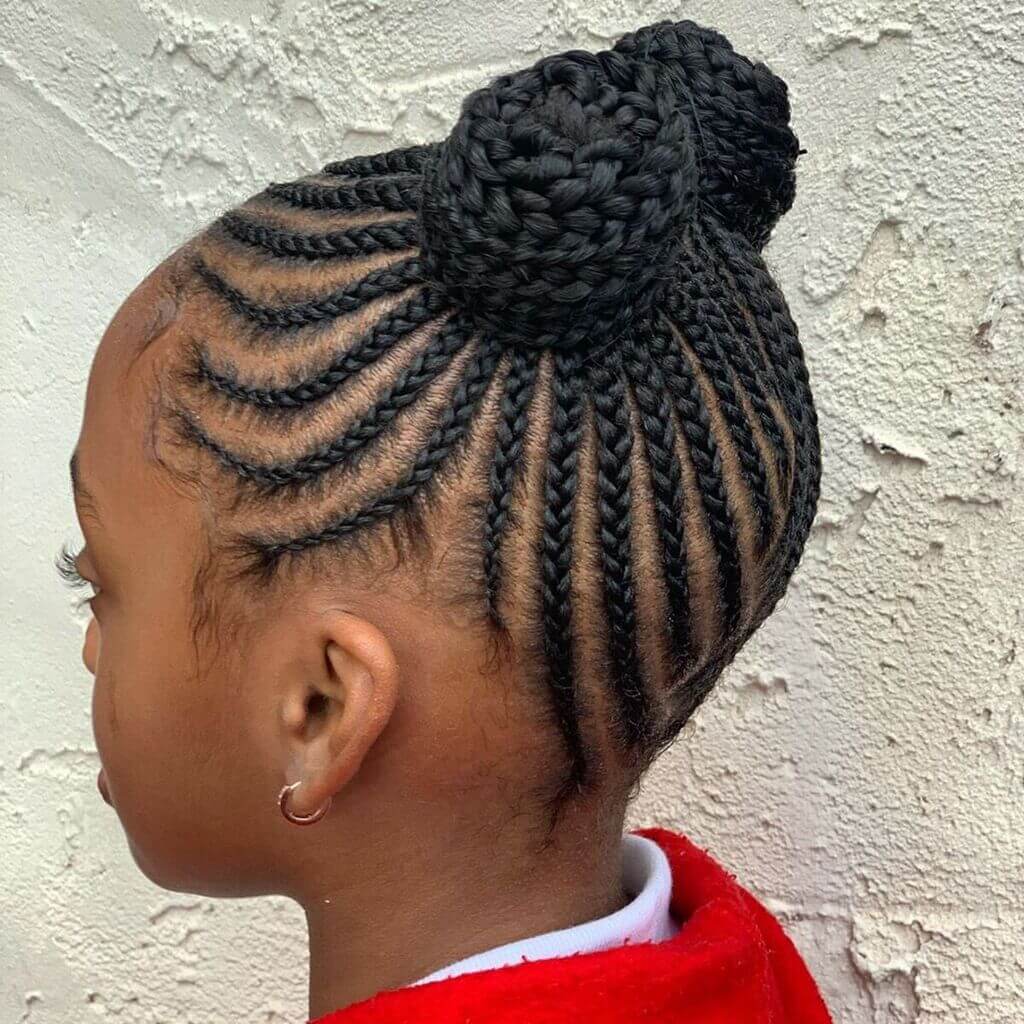 Source: latest-hairstyles.com
Trying to decide between braids and showing off your child's gorgeous curls? Combining natural hair with a braided top bun gives them the best of both worlds. The braided bun is adorable and sticks out in a crowd. Meanwhile, letting the other areas free means this is a very comfy and informal hairstyle for kids.
9. Braid Hairstyles for Kids on Both Sides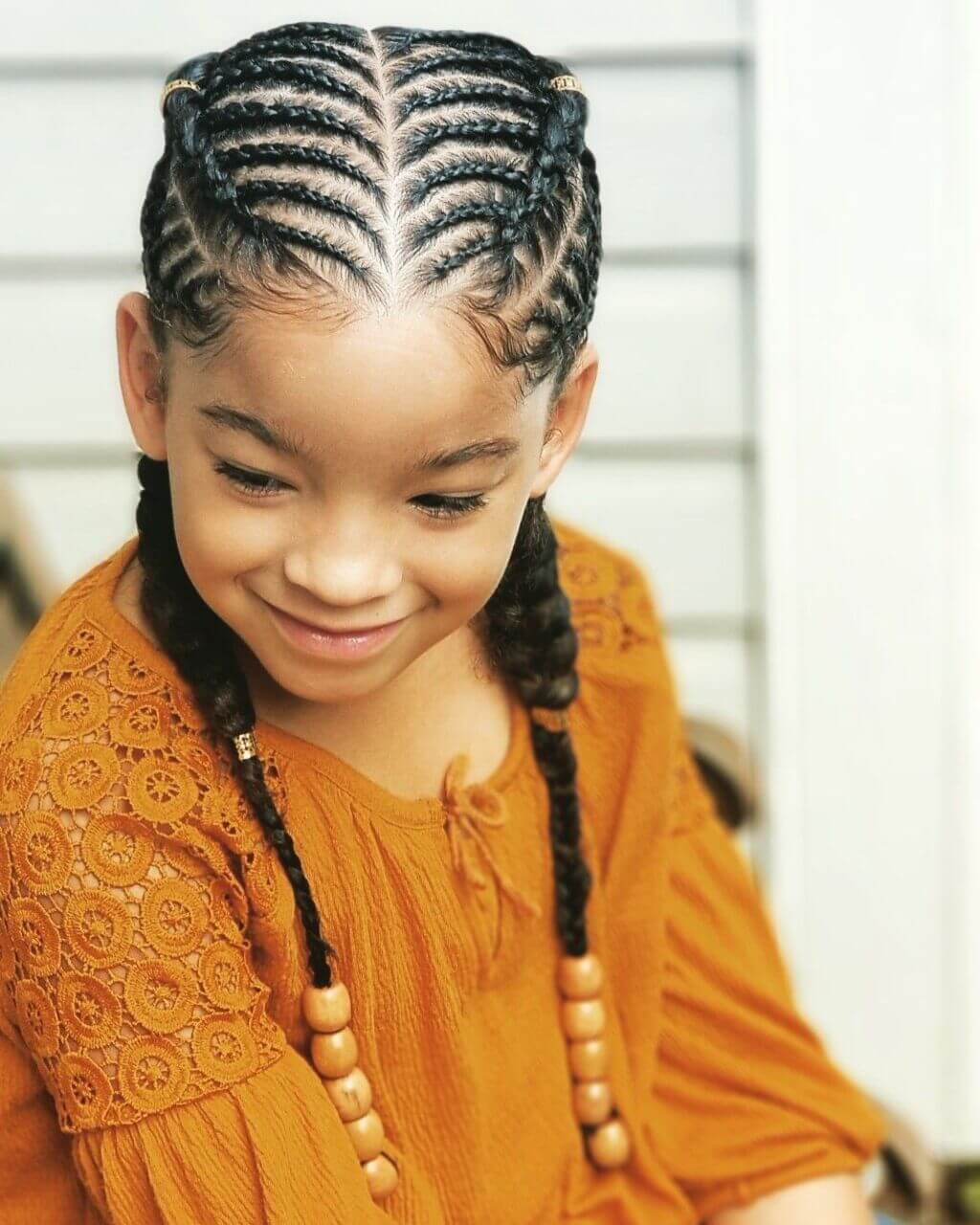 Source: thrivenaija.com
The two-side braid hairstyle, also known as double braids or pigtail braids, is a basic and traditional appearance that is straightforward to achieve. Two-side braids are a terrific alternative if you're short on time and want to tame your child's lengthy hair with more flare than a regular ponytail. These adaptable braids always look excellent and are a fantastic choice for school or sports, whether clean and silky or more loose and bohemian.
10. Beaded Topped Bun ' Braid Hairstyles for Kids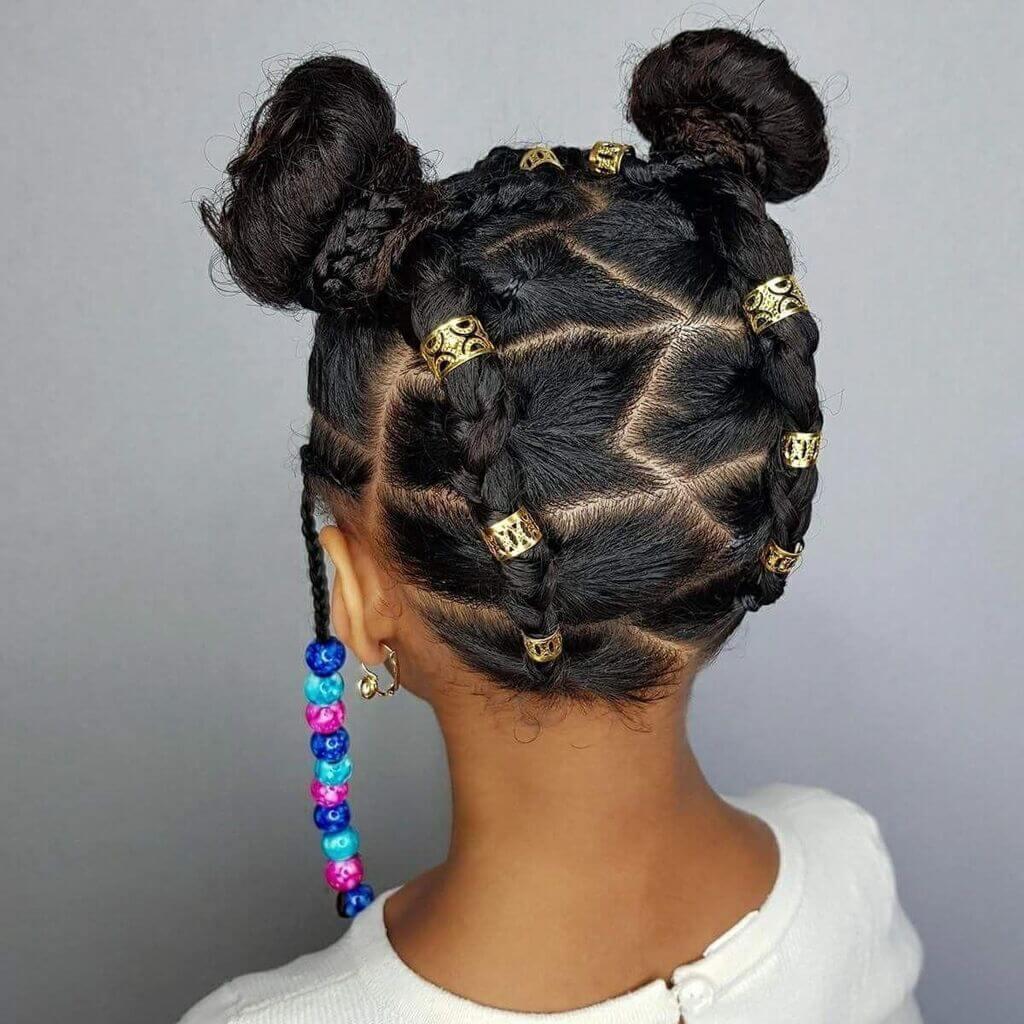 Source: pinimg.com
This daring style with curls is simple to put together. Experiment with this style for attractive and fashionable braids with curls for kids. Of course, the complicated style will require some expertise to hack, but the look is amazing.
11. Heart Cute Braids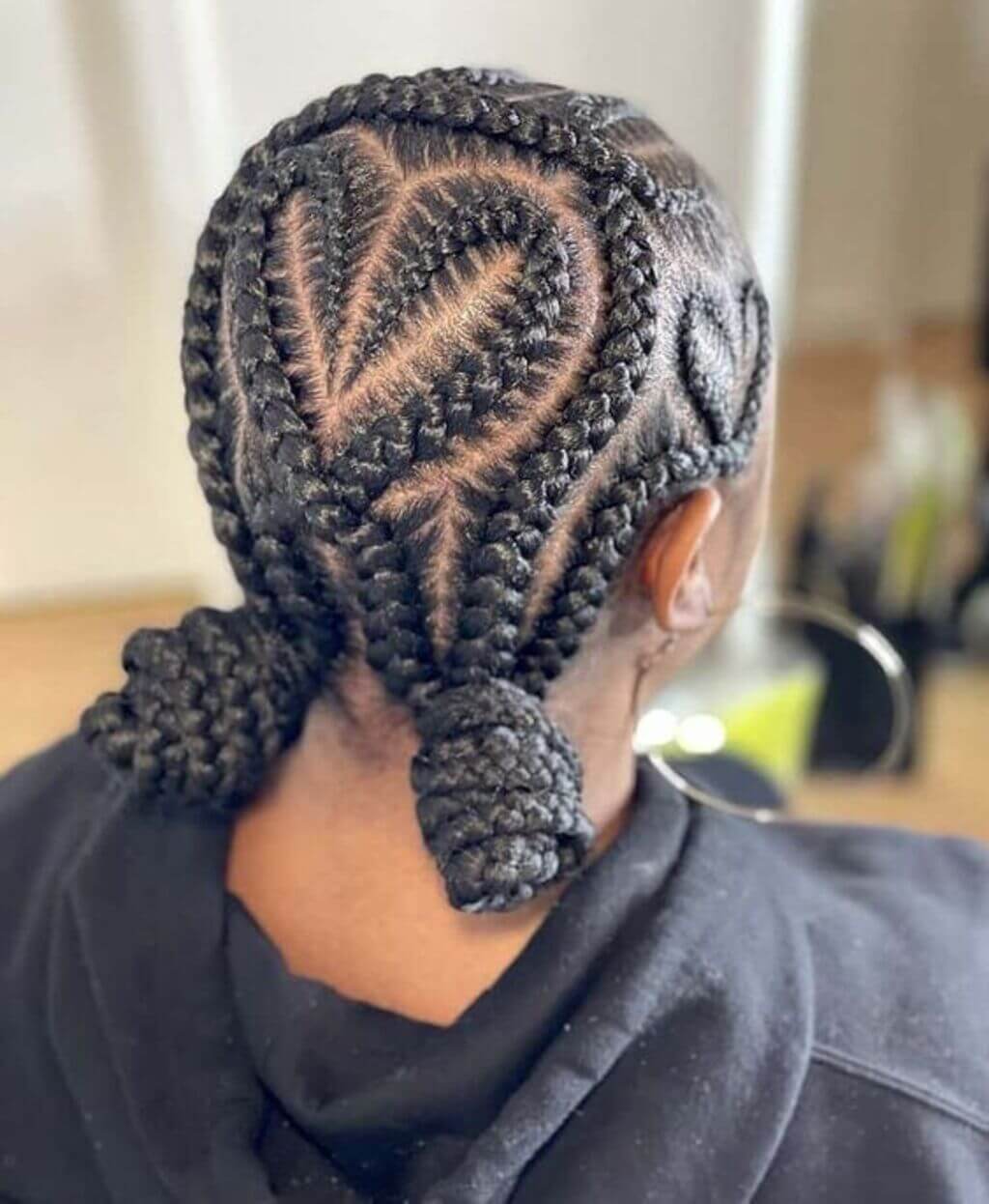 Source: pinimg.com
To get this style, part the hair in the middle and then braid it from the two sides. Attach the braids in a heart form using soft pins and fasten the heart with a knot to keep the shape. This is a relatively modern hairstyle that is both intriguing and adorable. This may also be done with black hair as children's braid hairstyles.
12. Criss-Cross Cute Braids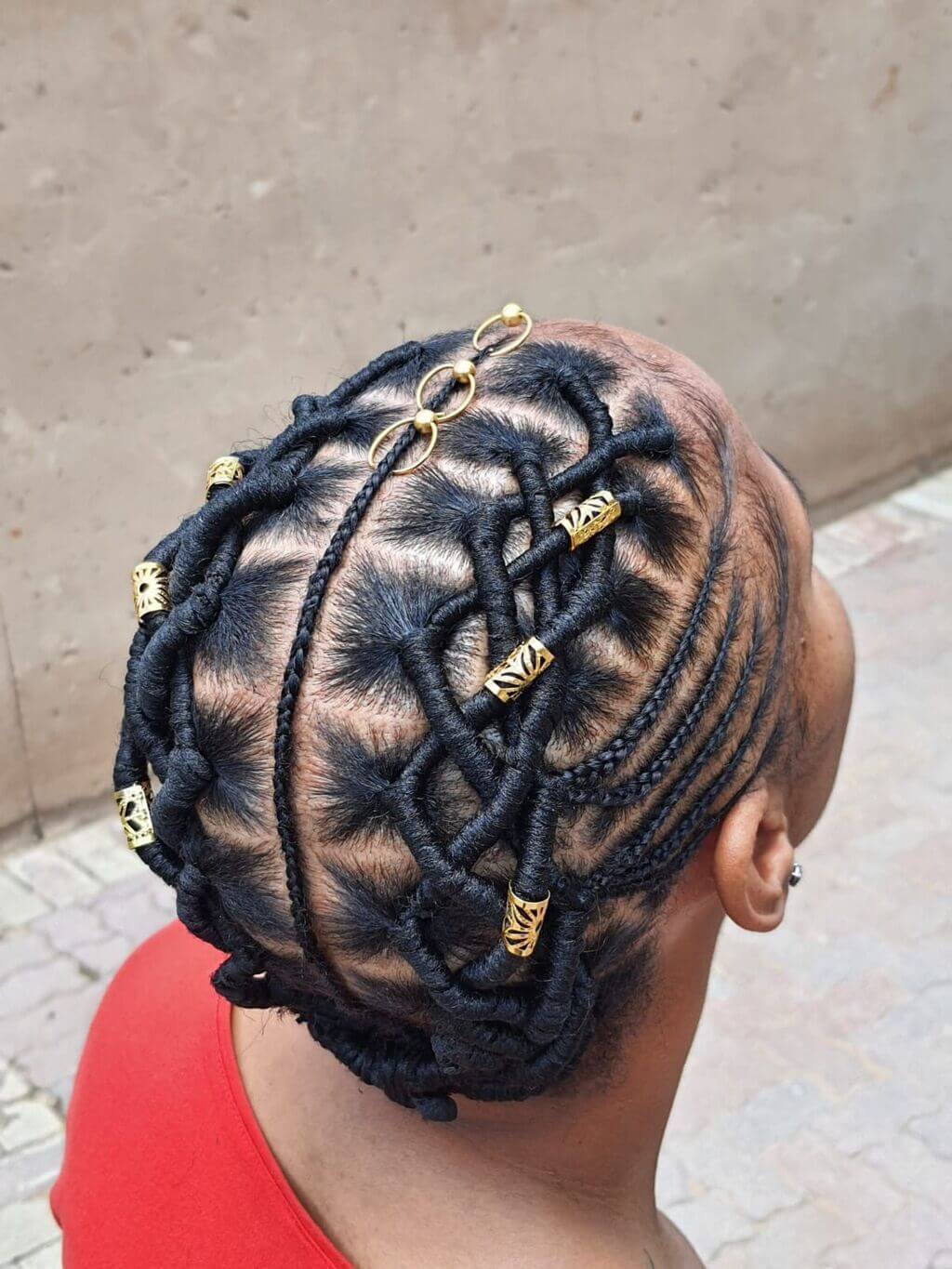 Source: pinimg.com
Why not if you're seeking something very cute for small girls? We've got you covered here. Begin by grabbing the hair from the front locks into a basic two-sided braid. Cross the braids over to the other side and French braid the rest to finish the appearance. To get this look, have hair accessories such as beads on hand. This is one of the most popular toddler braided hairstyles.
13. Side Bun Kids Knotless Braids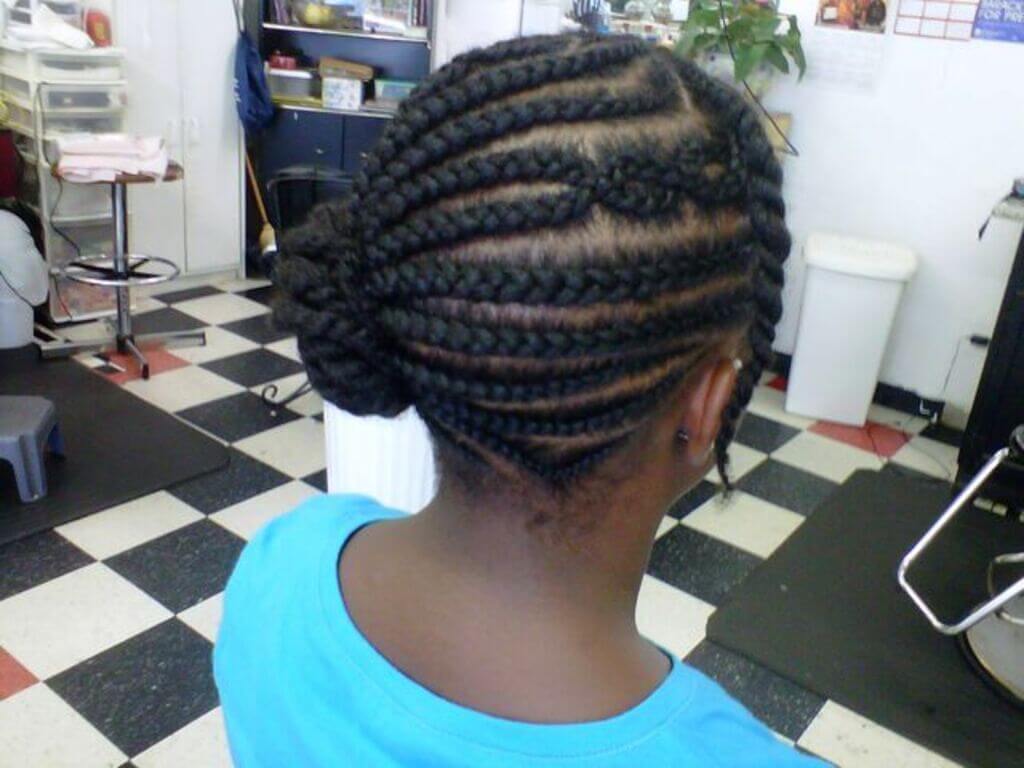 Source: pinimg.com
A braided side bun is a lovely new variation on a braided updo hairdo. While the hairdo is simple to execute (you only need to make one braid), it sticks out and has a charming yet unique style that your young one will enjoy. Make a deep side part in their hair, then smooth it out and plait it in three strands. Finally, twist the plait into a bun and bobby pin it in place. Quick and easy, it's an ideal style for school photos, birthday parties, or a family dinner.
14. Kids Knotless Braids with Two Parts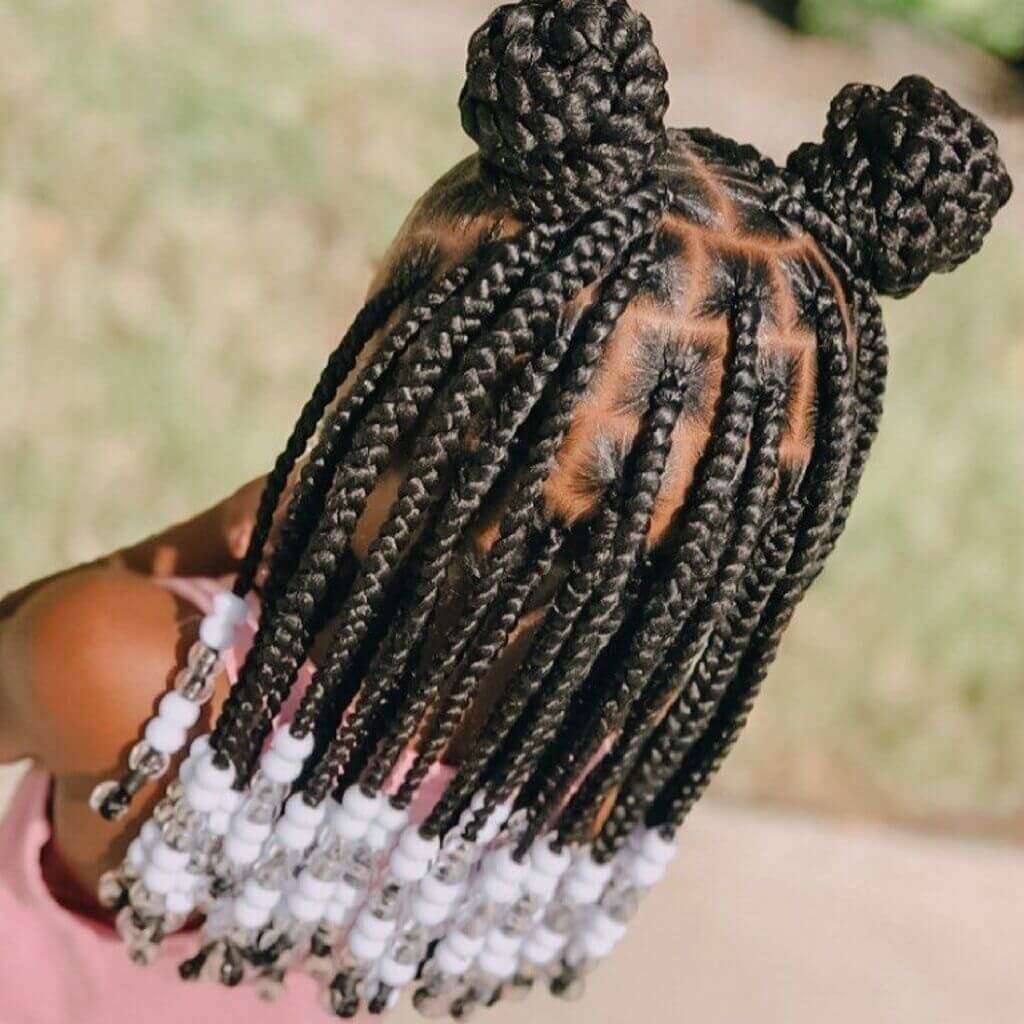 Source: pinimg.com
Small girls look beautiful in braids, and when the traditional hairstyle is reworked to incorporate two side-parted braids, the effect is stunning. When done correctly, this attractive appearance exudes the desired appeal. It is one of the nicest small girl braids with beads that your child will like.
15. African-Inspired Braids for Children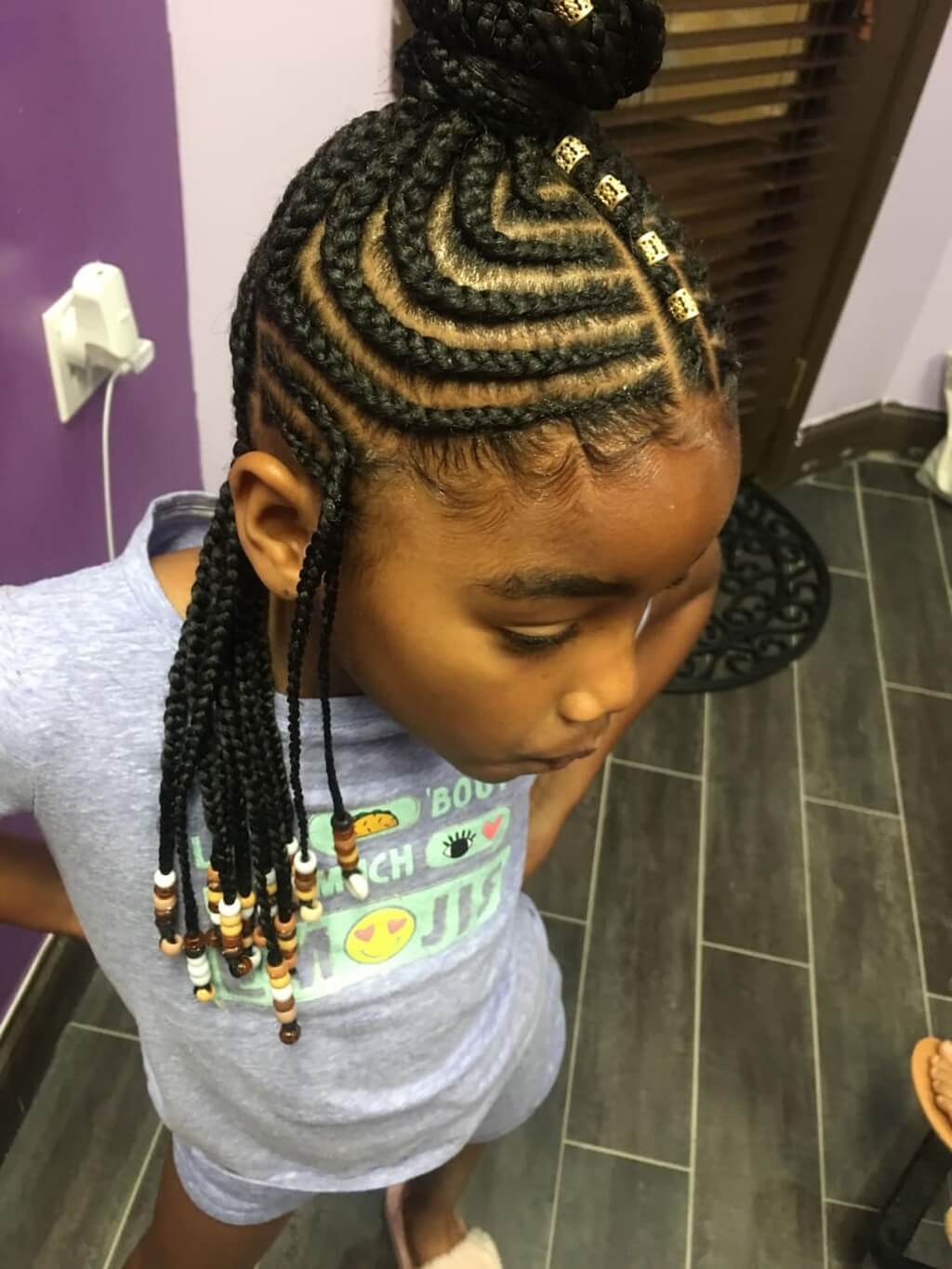 Source: yen.com.gh
Do you want African American kids to braid hairstyles? Given the popularity of these fashionable braids for kids, here is one that is most sought after throughout the world. This is one of the most popular and fashionable box braids hairstyles for kids. You may try different styles with them and always add hair decorations or beads of your choosing, as seen in the photo; it will only improve the style.
16. Jumbo Holo Braid Hairstyles for Kids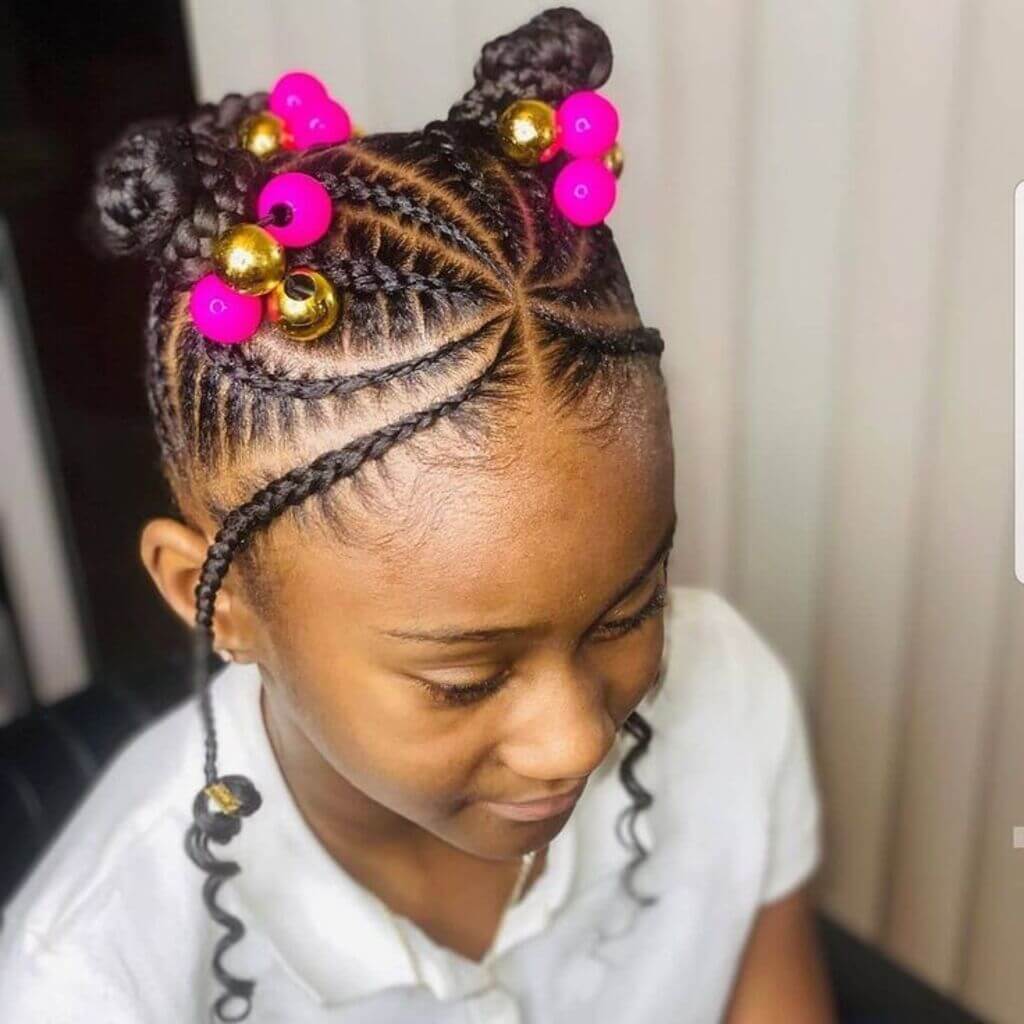 Source: thrivenaija.com
Here's another traditional hairstyle for your daughter, not too dramatic and adding a new depth to cornrow braids, wrapped from the mid-front to the back and arranged on a criss-cross basis. This hairstyle requires only her natural hair and, if desired, hair accessories.
17. Girls' Fishtail Braid Hairstyles for Kids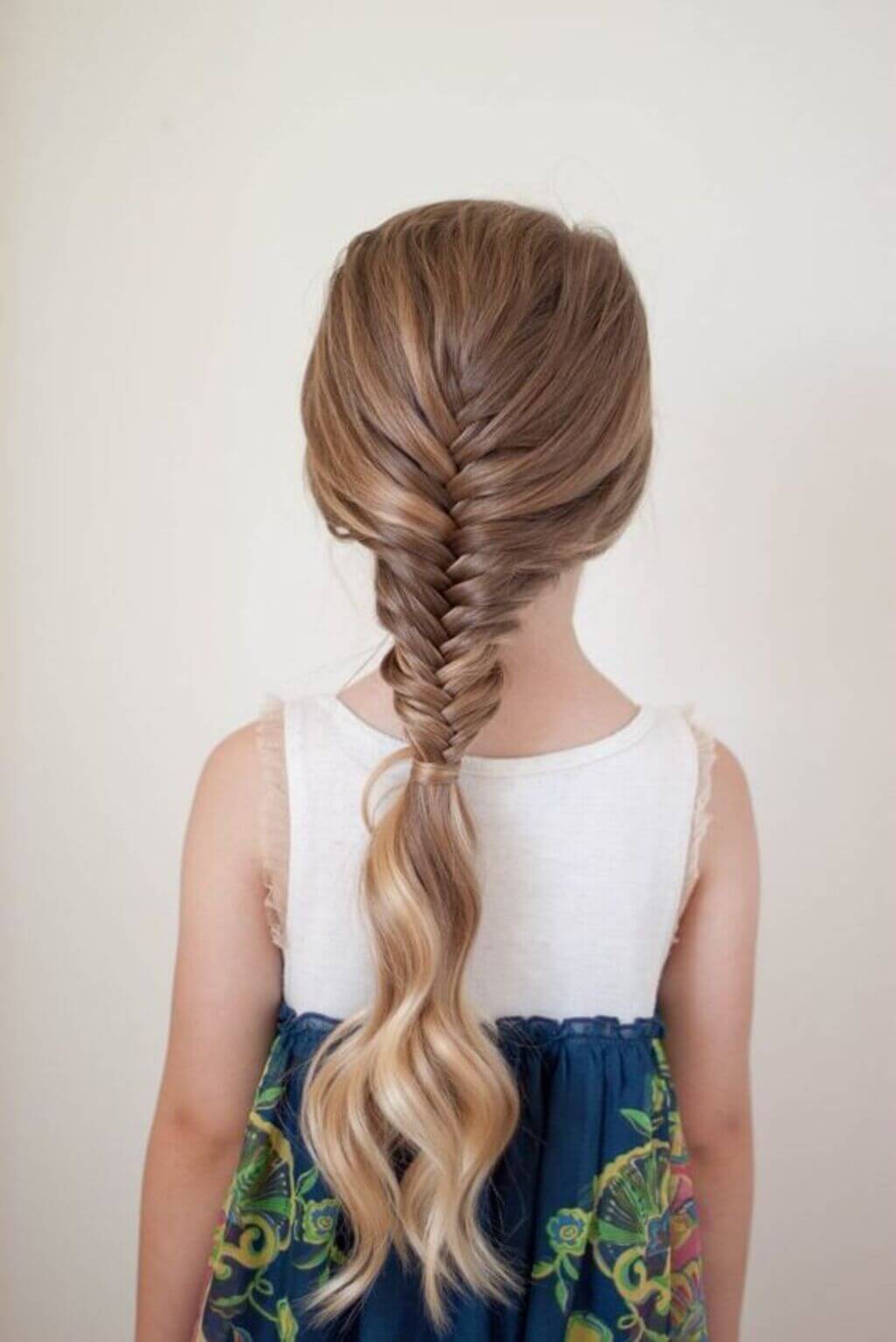 Source: pinimg.com
This is a popular fishtail braid in kids' style. Here this looks adorable, with a wonderful bow elastic tied as a ponytail at the end. Those who work on the smart and style sense for children should not overlook this style since it enhances one's characteristics and style. Kids can appear edgy and charming in this one and will undoubtedly attract attention. Rather than bow hair clips, this plain hairstyle looks very attractive.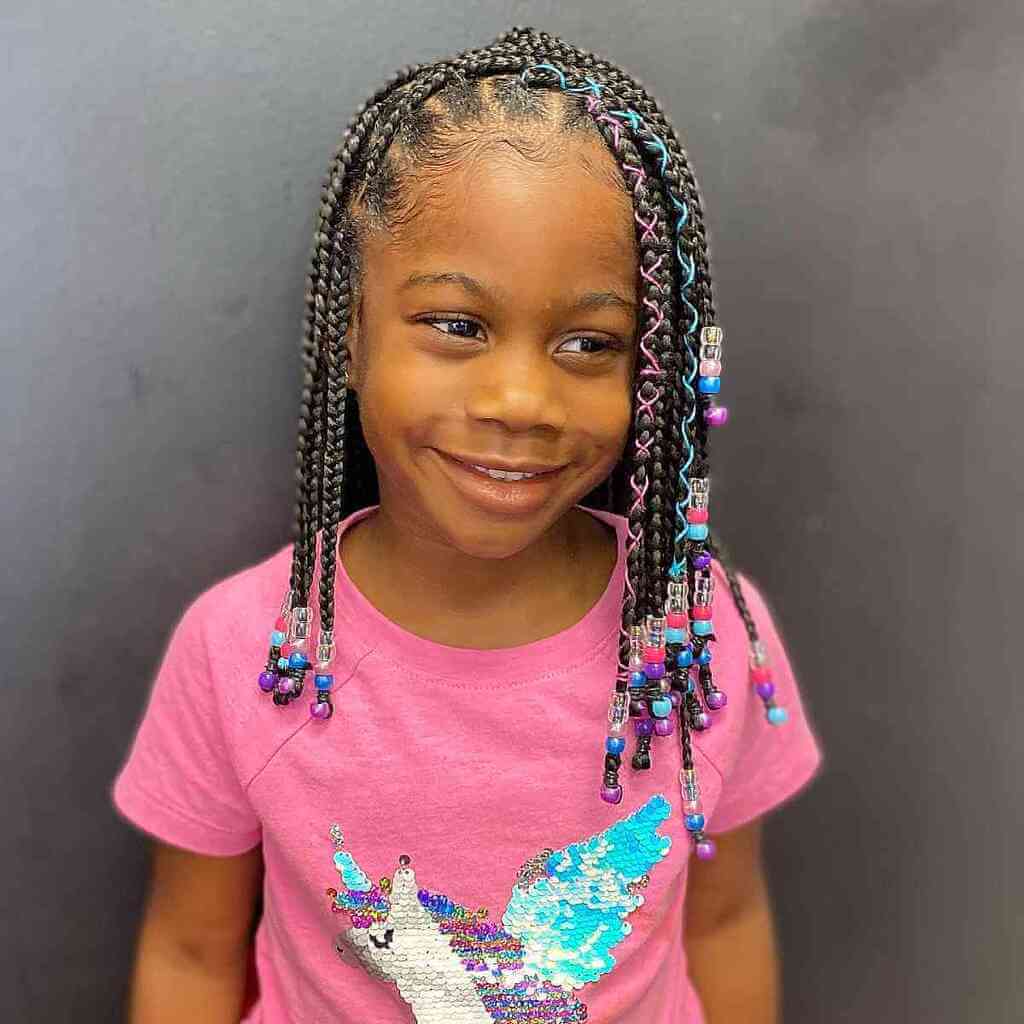 Source: latest-hairstyles.com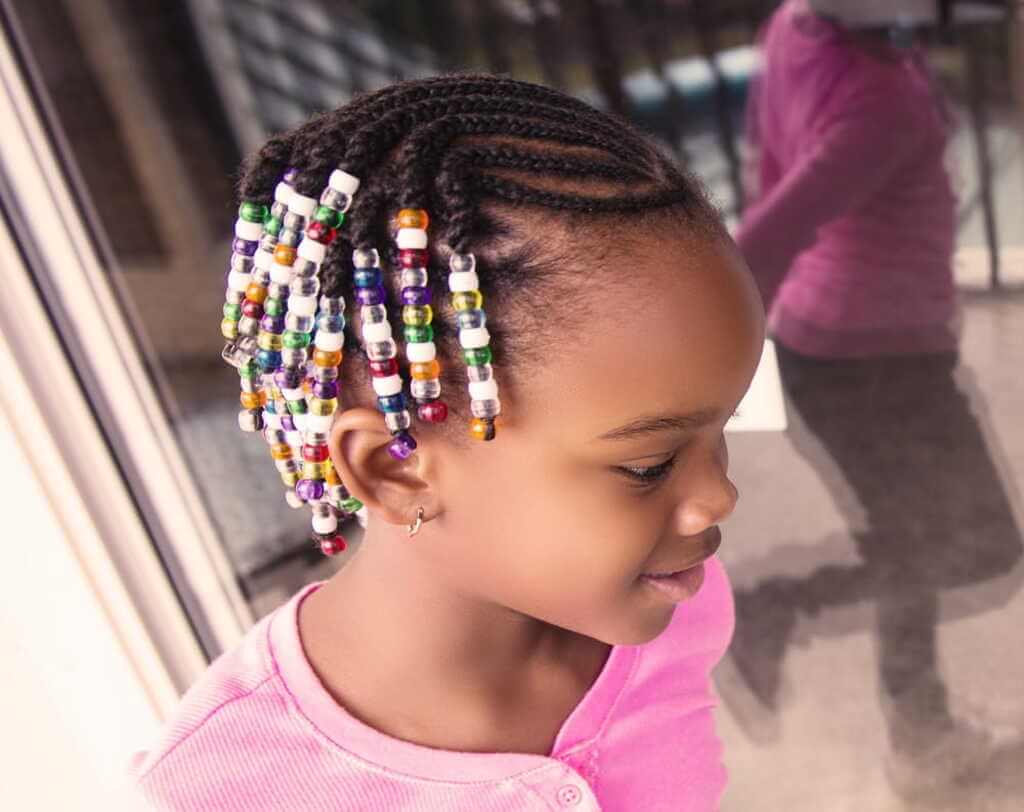 Source: hairstylecamp.com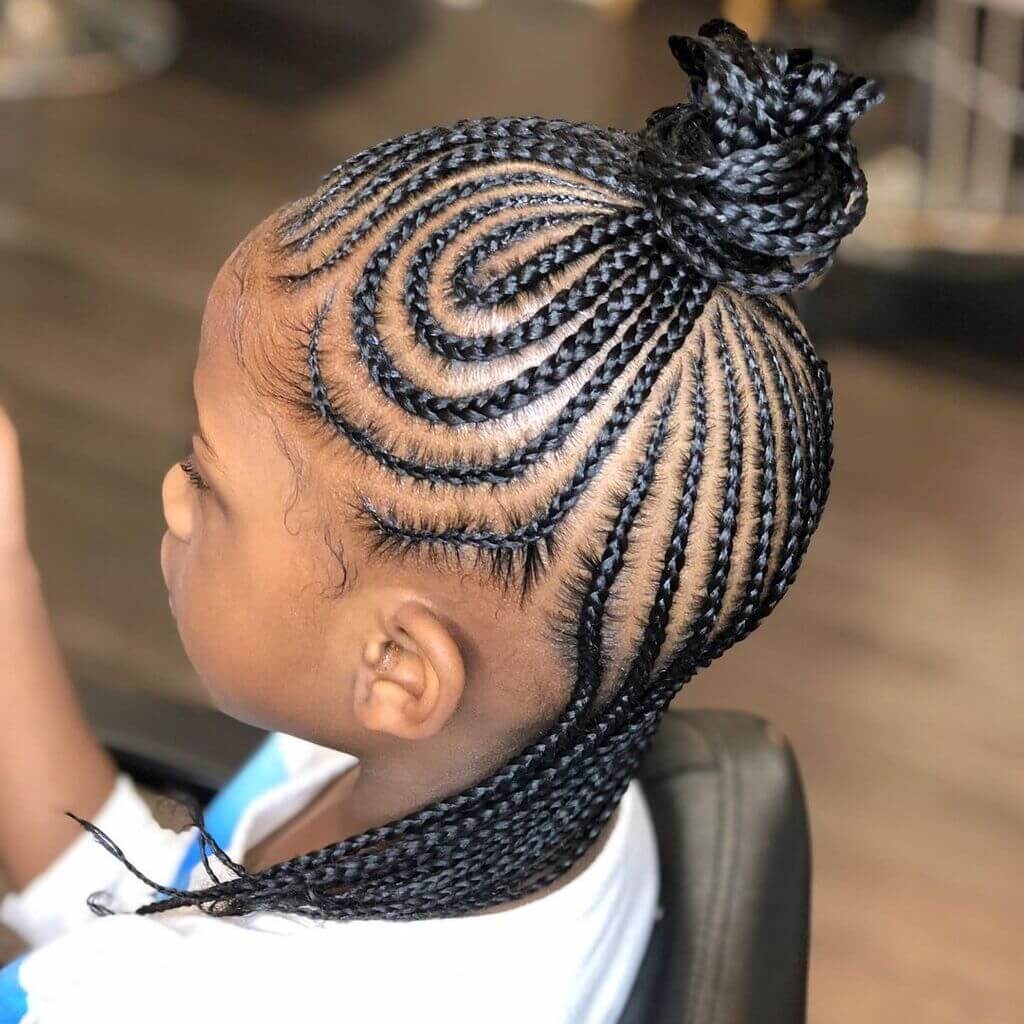 Source: shweshwe1.com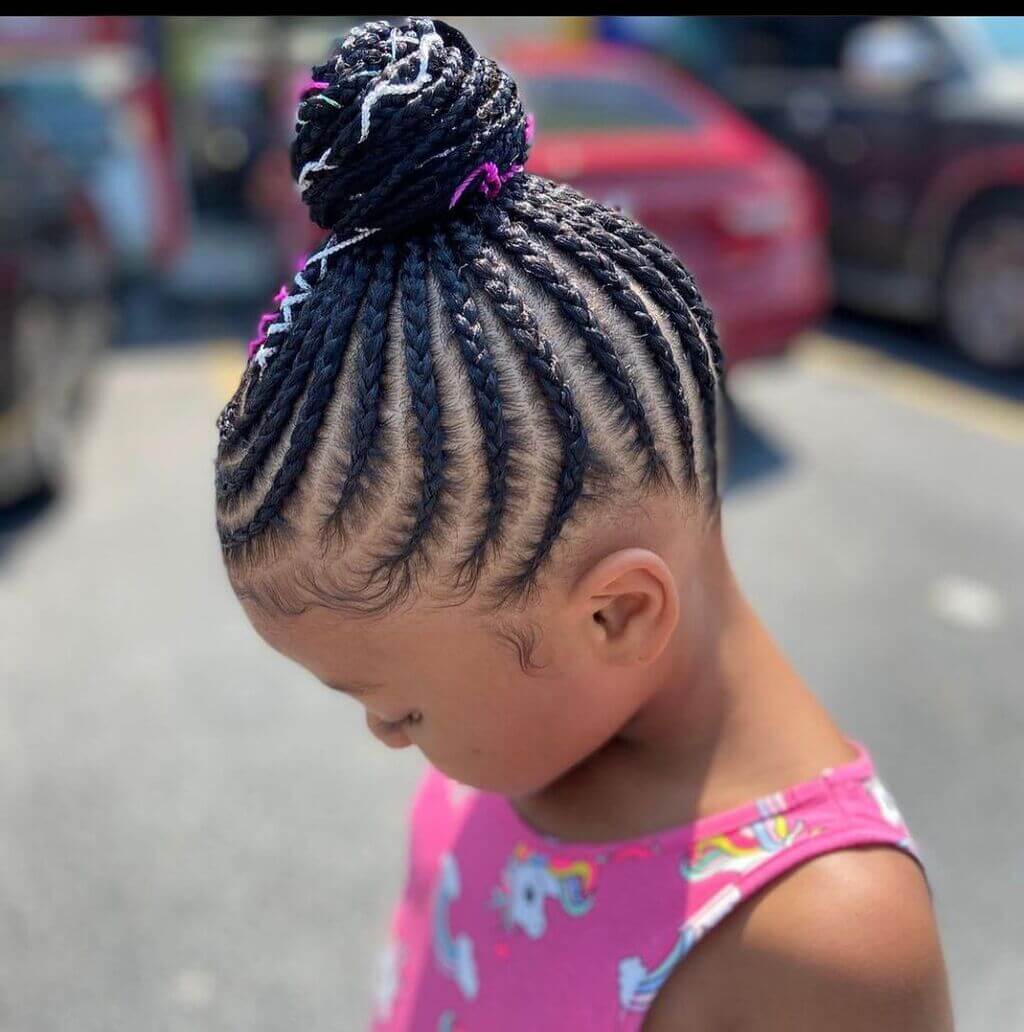 Source: blogspot.com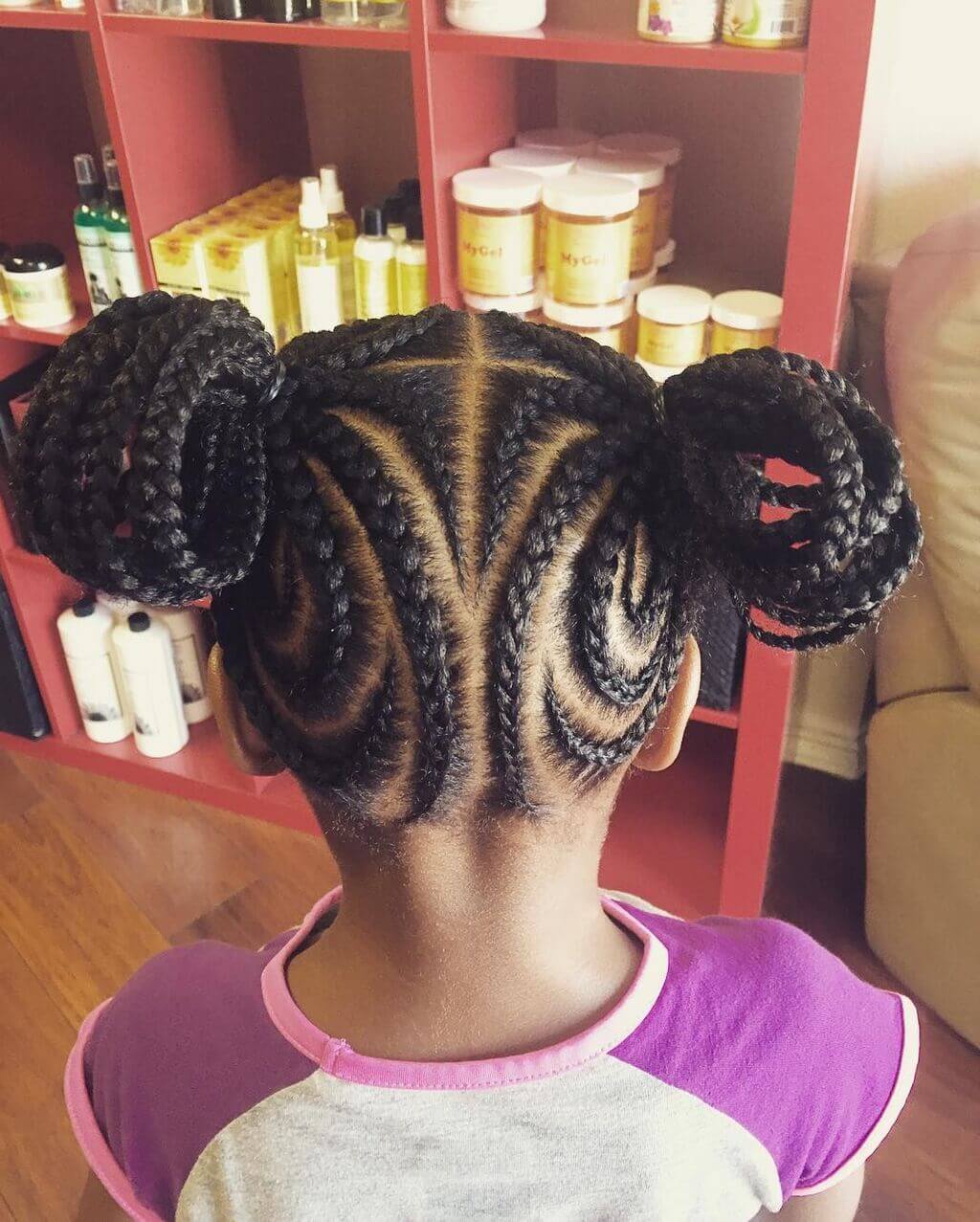 Source: pinimg.com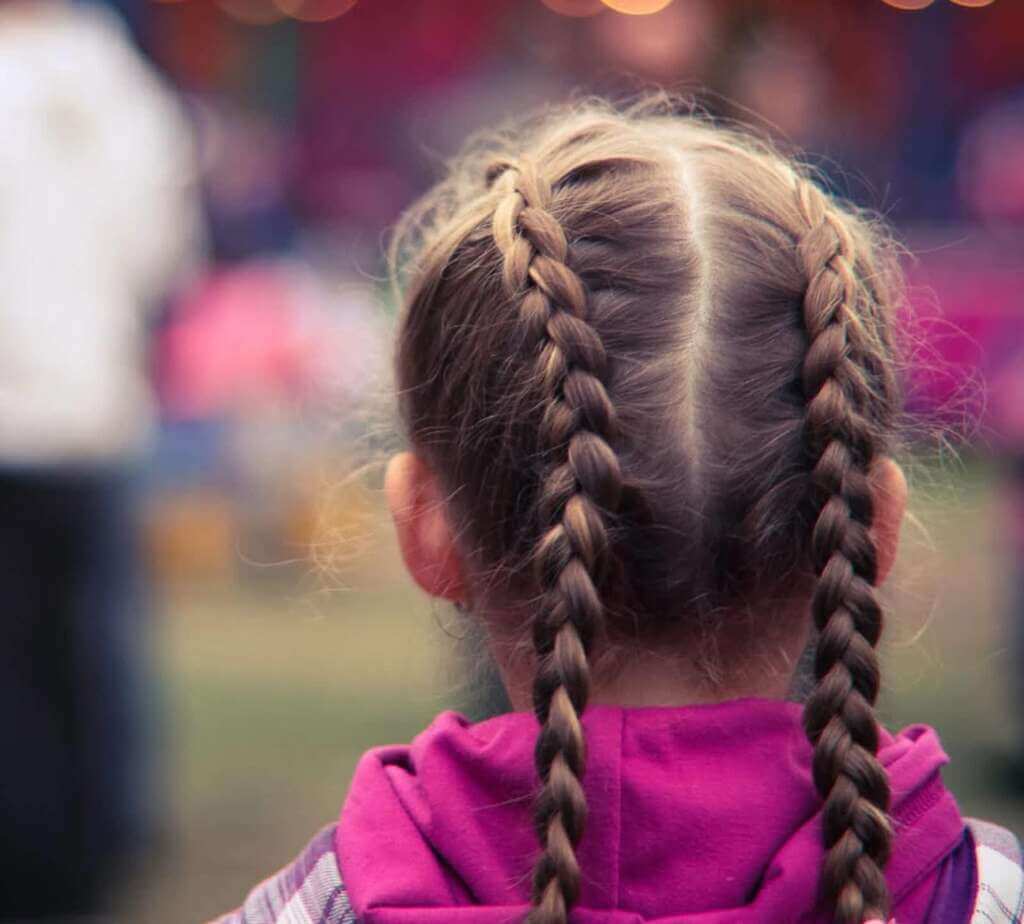 Source: ssmscdn.yp.ca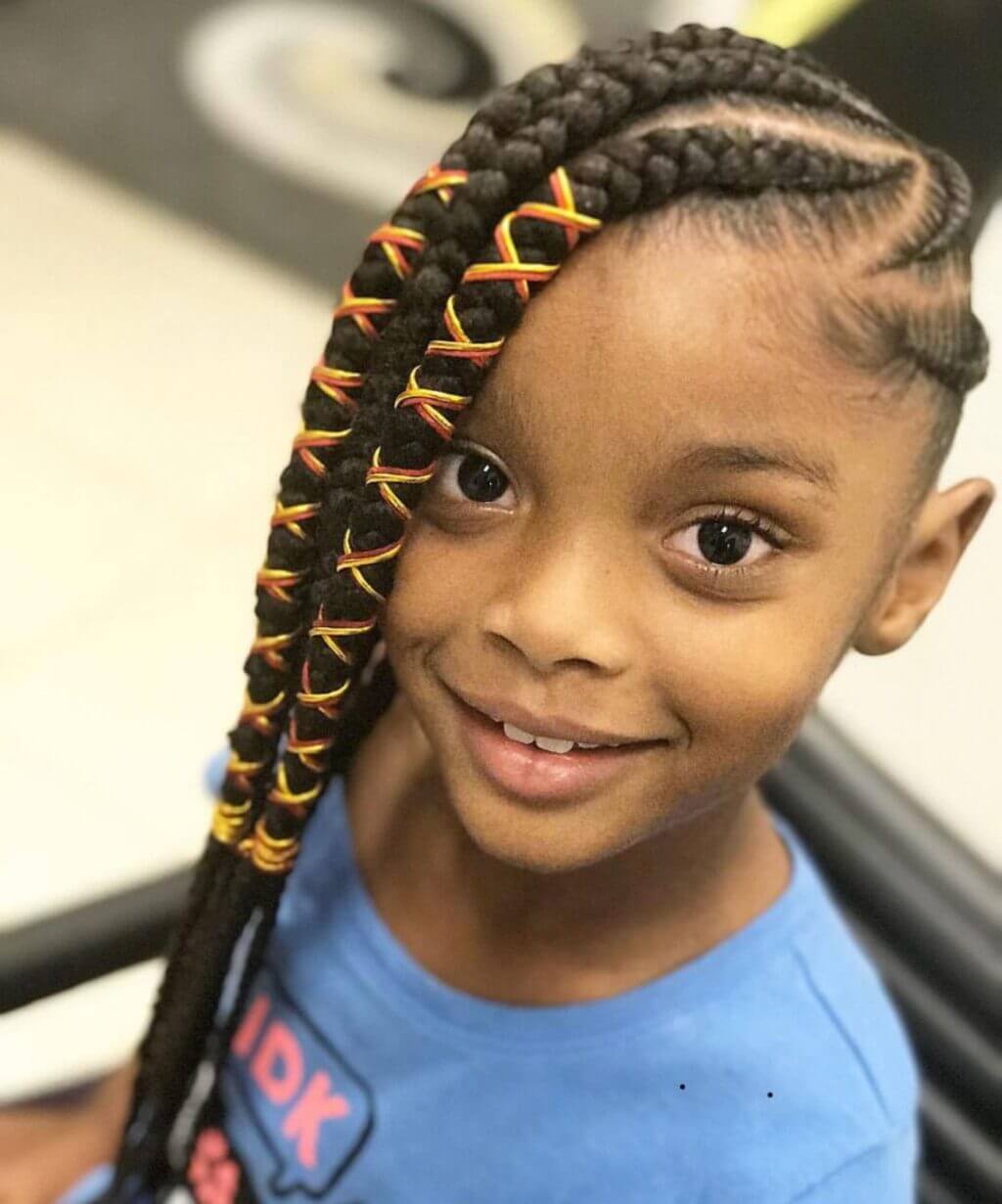 Source: guardian.ng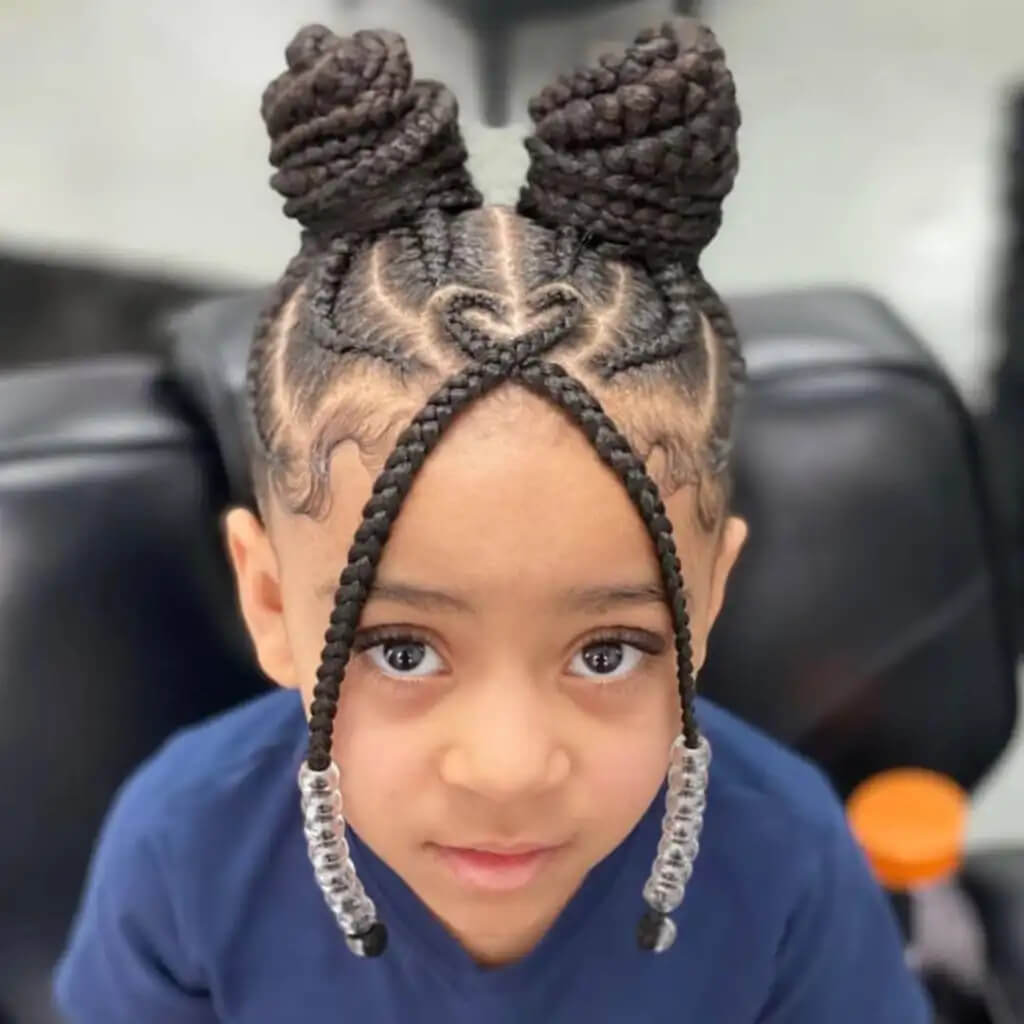 Source: wp.com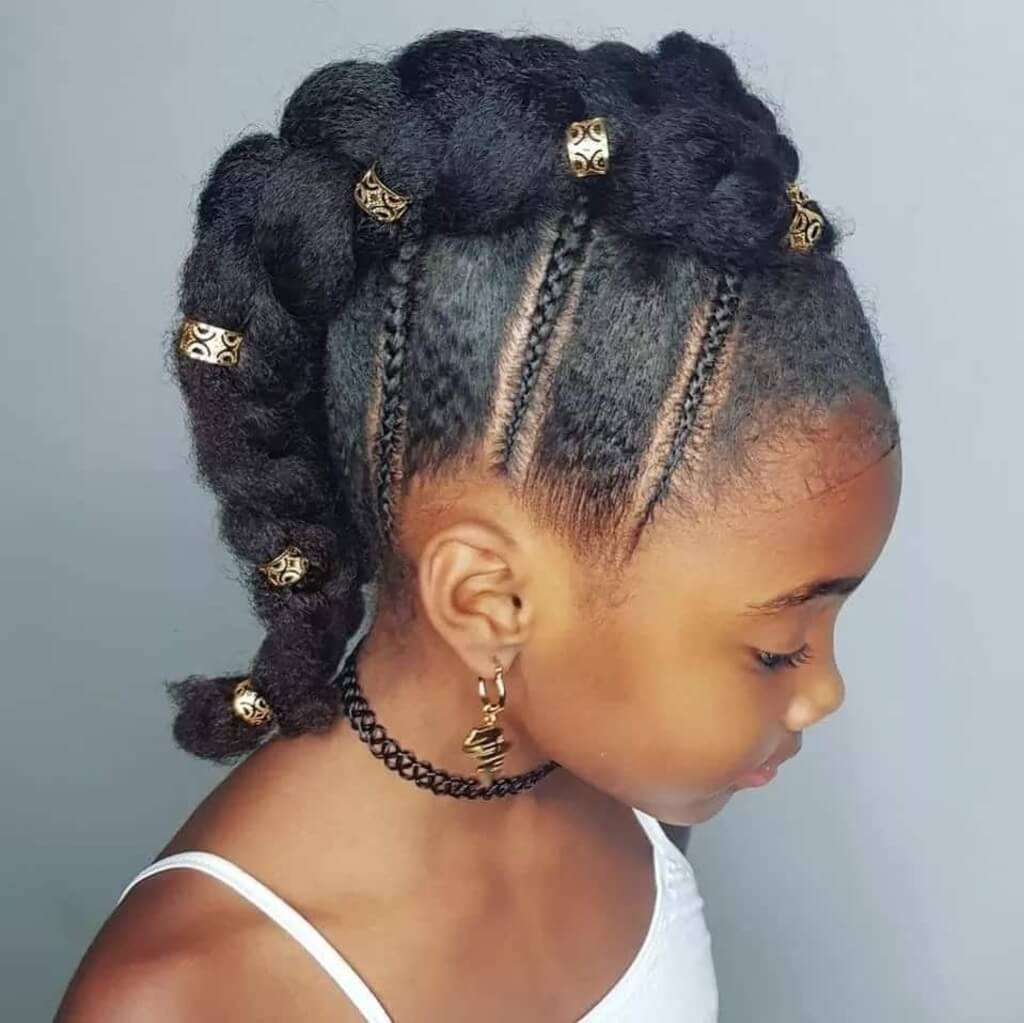 Source: akamaized.net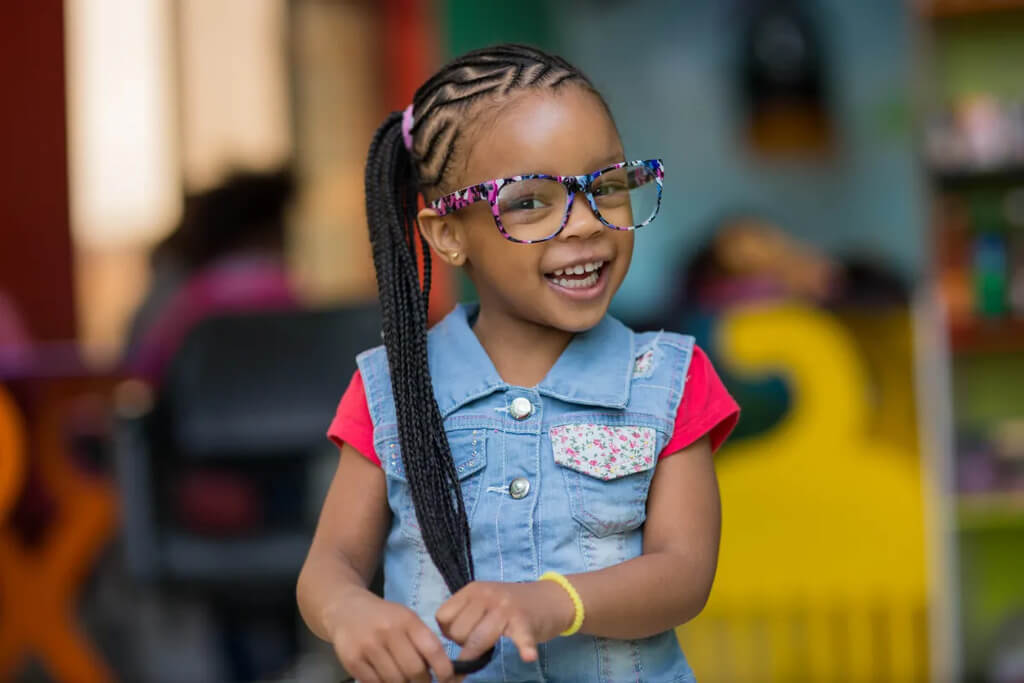 Source: wp.com
The Bottom Line
Finally summing up everything, you won't have to spend a lot of time styling hair because it's quite simple and adaptable to design! Play with your little girl's hair and experiment with numerous ways to style these kiddies braid hairstyles. You're in luck because the above list of attractive kiddies' braids for youngsters is sure to work wonders for you in making your job a lot easier. These hairstyles look stylish while also making your child's appearance gorgeous.