Brazilian soccer legend Pelé dies at 82
Pelé, the Brazilian soccer legend who won three World Cups and became the sport's first global icon, has died at the age of 82.
"Everything that we are, is thanks to you," his daughter Kely Nascimento wrote in a post on Instagram, under an image of family members holding Pele's hands. "We love you infinitely. Rest in peace."
Pelé was admitted to a hospital in São Paulo in late November for a respiratory infection and for complications related to colon cancer. Last week, the hospital said his health had worsened as his cancer progressed. He died on Thursday from multiple organ failure due to the progression of colon cancer, according to a statement from Albert Einstein Hospital.
For more than 60 years, the name Pelé has been synonymous with soccer. He played in four World Cups and is the only player in history to win three, but his legacy stretched far beyond his trophy haul and remarkable goal-scoring record.
"I was born to play football, just like Beethoven was born to write music and Michelangelo was born to paint," Pelé famously said.
Tributes have been pouring in for the soccer legend. Pelé's first club, Santos FC, responded to the news on Twitter with the words "eternal" shared next to an image of a crown.
Ad Feedback
Brazilian footballer Neymar said Pelé "changed everything." In a post on Instagram, he wrote: "He turned football into art, into entertainment. He gave a voice to the poor, to black people and especially: He gave visibility to Brazil. Football and Brazil have raised their status thanks to the King!" he added.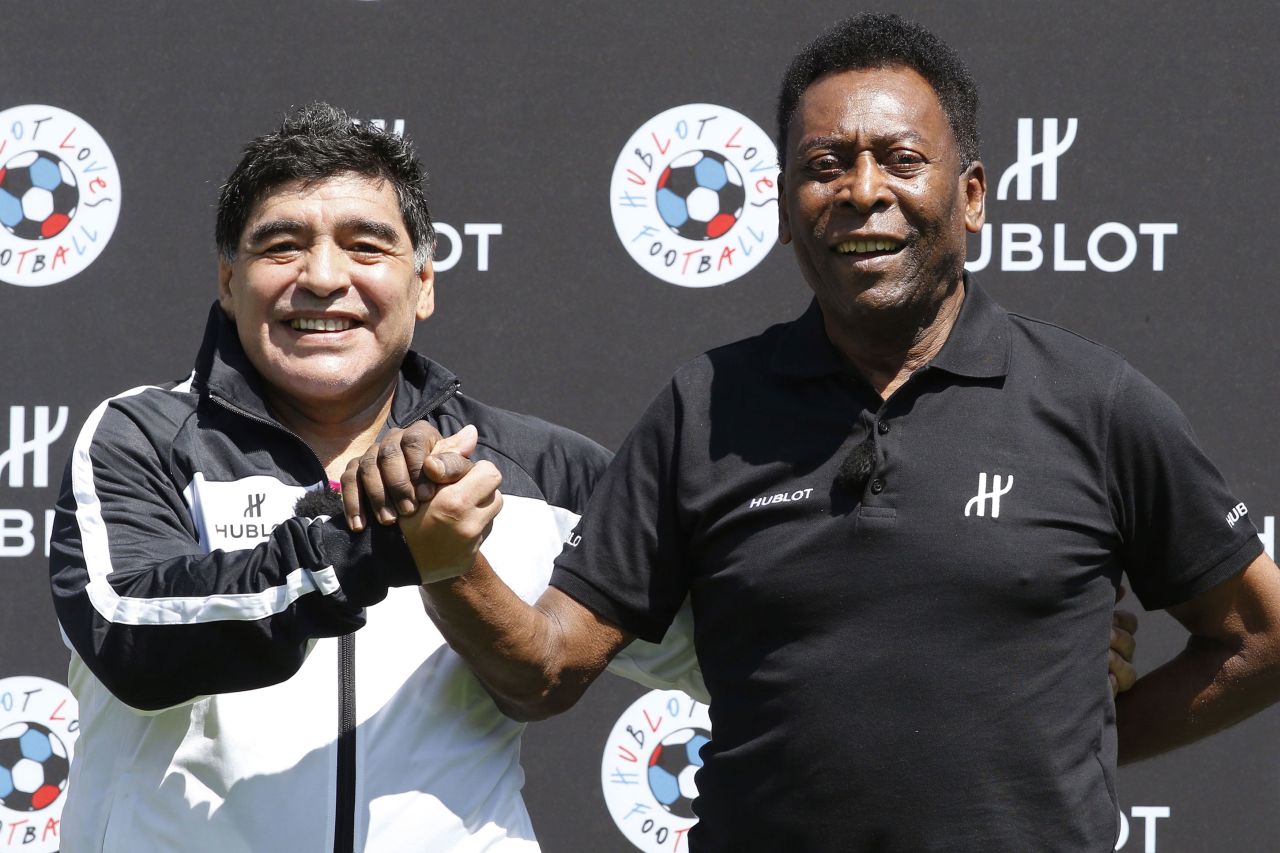 Pelé is carried off the field by fans after Brazil defeated Italy in the final of the 1970 World Cup.Alessandro Sabattini/Getty Images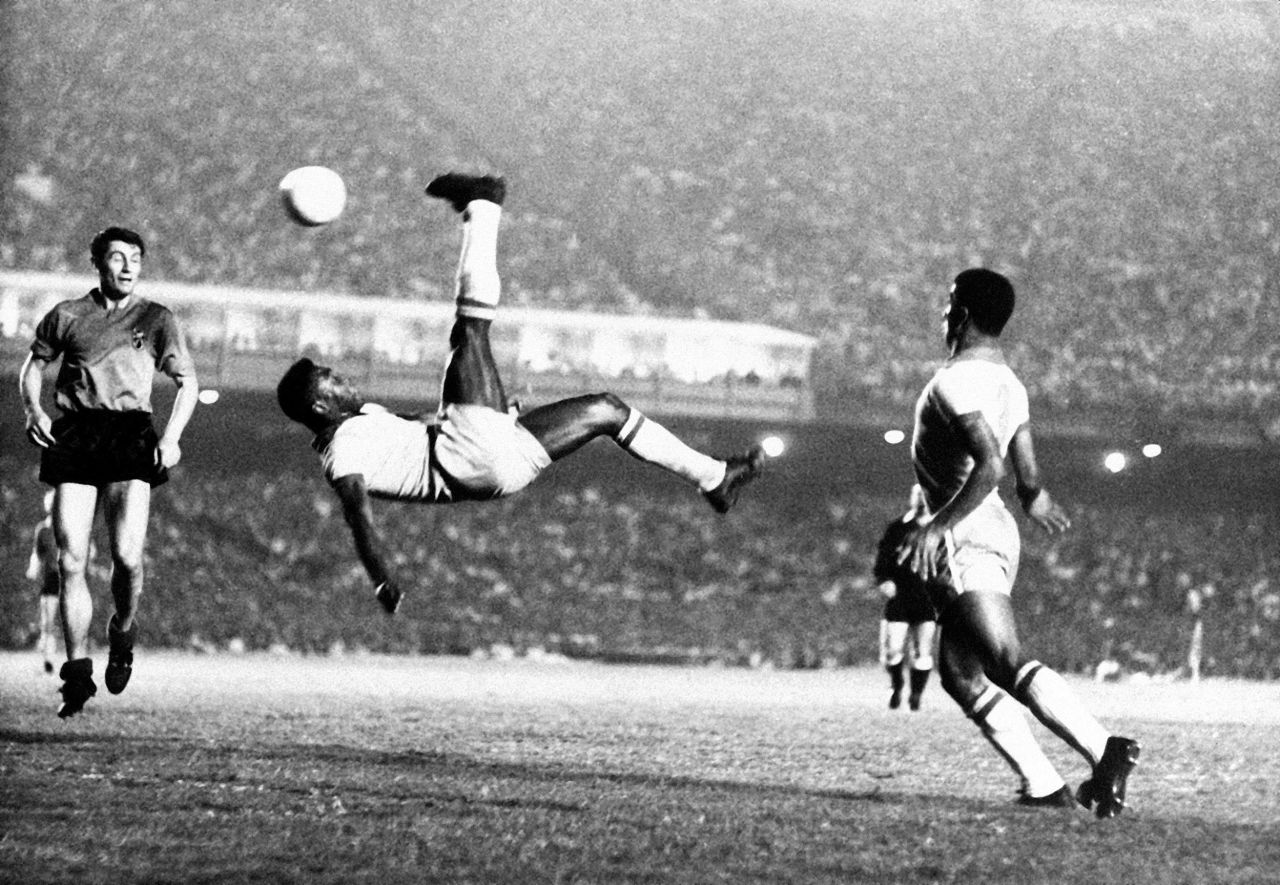 Pelé's life in pictures
1 of 35PrevNext
Portuguese star forward Cristiano Ronaldo sent his condolences to Brazil in a post on Instagram, saying "a mere "goodbye" to the eternal King Pelé will never be enough to express the pain that currently engulfs the entire football world."
Kylian Mbappé of Paris Saint-Germain said of Pelé's death: "The king of football has left us but his legacy will never be forgotten."
Former English soccer player Geoff Hurst wrote on Twitter of his memories of Pelé, calling the late star "without doubt the best footballer I ever played against (with Bobby Moore being the best footballer I ever played alongside). For me Pele remains the greatest of all time and I was proud to be on the the pitch with him. RIP Pele and thank you."
Brazil's incoming President Luiz Inácio Lula da Silva took to Twitter to pay his respects to Pelé, saying "few Brazilians took the name of our country as far as he did."
"As different from Portuguese as the language was, foreigners from the four corners of the planet soon found a way to pronounce the magic word: 'Pelé,'" Lula added.
A public wake will be held for Pelé on Monday at the Urbano Caldeira stadium, popularly known as Vila Belmiro and home to Santos football club, in Brazil's São Paulo state, according to a Thursday statement from Santos FC.
At dawn Monday, Pele's body will be moved from the Albert Einstein Hospital to the stadium. The soccer legend's coffin will be placed in the center of the pitch.
The wake at Vila Belmiro will continue until Tuesday 10 a.m. local time (8 a.m. ET), after which a funeral procession will carry Pelé's coffin through the streets of the city of Santos, including the street where Pelé's 100-year-old mother, Celeste Arantes, lives.
The cortege will continue to Pelé's final resting place, the Memorial Necrópole Ecumênica cemetery in Santos, where a private funeral, reserved for family members, will be held.
Dazzling ability
Pelé was born Edson Arantes do Nascimento in Três Corações – an inland city roughly 155 miles northwest of Rio de Janeiro – in 1940, before his family moved to the city of Bauru in São Paulo.
The genesis of the nickname Pelé are unclear, even to the footballer. He once wrote in the British newspaper The Guardian that it likely started with school classmates teasing him for mangling the nickname of another player, Bilé. Whatever the origin, the moniker stuck.
Exactly how many goals Pelé scored during his career is unclear, and his Guinness World Records tally has come under scrutiny with many scored in unofficial matches.Domicio Pinheiro/Agência Estado/AP
As a child, his first taste of soccer involved playing barefoot with socks and rags rolled up into a ball – a humble beginning that would grow into a long and fruitful career.
But when he first took up the game, his ambitions were modest.
"My dad was a good football player, he scored a lot of goals," Pelé told CNN in 2015. "His name was Dondinho; I wanted to be like him.
"He was famous in Brazil, in Minas Gerais. He was my role model. I always wanted to be like him, but what happened, to this day, only God can explain."
As a teenager, Pelé left home and began training with Santos, scoring his first goal for the club side before his 16th birthday. He would go on to score 619 times over 638 appearances for the club, but it is his feats in the iconic yellow jersey of Brazil for which he is best remembered.
The world first got a glimpse of Pelé's dazzling ability in 1958, when he made his World Cup debut aged 17. He scored Brazil's only goal in the country's quarterfinal victory against Wales, then netted a hat-trick in the semifinal against France and two in the final against host Sweden.
Brazil players hold a banner showing support for former Brazil player Pele after the FIFA World Cup Qatar 2022 Round of 16 match between Brazil and South Korea on December 5.Michael Steele/Getty Images Europe/Getty Images
"When Pelé scored the fifth goal in that final, I have to be honest and say I felt like applauding," said Sweden's Sigvard Parling.
For Pelé, the standout memory from the tournament was putting his country on the sporting map.
"When we won the World Cup, everybody knew about Brazil," he told CNN's Don Riddell in 2016. "I think this was the most important thing I gave to my country because we were well known after that World Cup."
Another World Cup victory came in 1962, although an injury sidelined Pelé for the tournament's later stages. Further injuries hampered his next campaign in 1966 as Brazil exited the competition after the group stage, but redemption came in 1970.
"Pelé was saying that we were going to win, and if Pelé was saying that, then we were going to win the World Cup," Brazil's co-captain Carlos Alberto said about the tournament.
That team – featuring the likes of Jairzinho, Gerson, Tostão, Rivellino, and, of course, Pelé – is regarded as one of the greatest ever assembled.
11 World Cup greats — as you've never seen them before
In the final – a 4-1 victory against Italy – Brazil scored arguably the most famous World Cup goal of all time, a sweeping, length-of-the-pitch move involving nine of the team's 10 outfield players.
It ended with Pelé teeing up Alberto, who drilled the ball into the bottom corner of the net. Brazil's mantra of jogo bonito (the beautiful game) has never been better encapsulated.
Pelé, who had considered retiring before the 1970 World Cup, scored a goal of his own in the final and a total of four over the course of the tournament.
"Before the match, I told myself that Pelé was just flesh and bones like the rest of us," Italian defender Tarcisio Burgnich said after his side's defeat in the final. "Later, I realized I'd been wrong."
The tournament capped Pelé's World Cup career but not his time in the spotlight. In 1975, he signed a $1.67-million-a-year contract in the United States with the New York Cosmos.
One of the greatest players
With his larger-than-life personality and extraordinary dribbling skills – a trademark of his game – Pele's helped the Cosmos win the North American Soccer League championship in 1977 before officially retiring from football.
The league, which attracted further big names like Giorgio Chinaglia and Franz Beckenbauer, wouldn't last, ultimately folding in 1984. But around the world, Pelé's influence endured.
He remained in the public eye through endorsement deals and as an outspoken political voice who championed the poor in Brazil. He served as a Goodwill UNICEF ambassador for many years, promoting peace and support for vulnerable children.
Health problems persisted for much of Pelé's later life. He got around with the support of a walker – an item he was filmed shoving around with disdain in a documentary released last year – and in September 2021, he underwent surgery to remove a tumor from his right colon.
Paris Saint-Germain and France national football team forward Kylian Mbappe (R) and Brazilian football legend Pele take part in a meeting at the Hotel Lutetia in Paris on April 2, 2019.Franck Fife/AFP/Getty Images
Pelé's cancer treatment continued over the past year. He was hospitalized in Sao Paulo in November as the 2022 World Cup was being played in Qatar, prompting an outpouring of support from the global soccer community and beyond.
Debate will inevitably rage about whether Pelé is the greatest player of all time – whether it is possible to compare Pelé's achievements to those of Cristiano Ronaldo or Lionel Messi, who have rewritten soccer's record books over the past 15 years, or to Diego Maradona, the late Argentinian star who captivated the footballing world in the 1980s and 90s.
In 2000, FIFA jointly named Maradona and Pelé as Player of the Century, but to some, the outright winner of the award should have been obvious.
"This debate about the player of the century is absurd," said Zico, who represented Brazil in the decade after Pelé's retirement. "There's only one possible answer: Pelé. He's the greatest player of all time, and by some distance, I might add."
Before Christmas, Pele's daughter posted a moving photo with father in hospital.Kely Nascimento/Instagram
Exactly how many goals Pelé scored during his career is unclear, and his Guinness World Records tally has come under scrutiny with many scored in unofficial matches.
In March 2021, he congratulated Portugal's Ronaldo for passing his "record of goals in official matches" – 767.
There is little doubt, however, that Pelé was, and always will be, football's first global superstar.
"If I pass away one day, I am happy because I tried to do my best," he told The Talks online magazine. "My sport allowed me to do so much because it's the biggest sport in the world."
source:https://edition.cnn.com/2022/12/29/football/brazil-pele-soccer-died-intl-latam-spt/index.html
Fintech startup Earnix raises $75m, attains 'unicorn' status at valuation of $1b
Funds raised will help startup access new markets, finetune software that helps banks and insurers offer clients personalized pricing and products
Fintech startup Earnix raised $75 , a developer of artificial intelligence software that allows banks and insurers to personalize offerings to customers, said it has raised $75 million from investors, at a pre-money valuation of $1 billion. The fundraising makes the Givatayim, Israel-based startup a new Israeli "unicorn" — a company valued at $1 billion and over.
The investment round was led by Insight Partners, with existing investors JVP, Vintage Partners and Israel Growth Partners joining the round.
The new funding will fuel Earnix's global expansion into new market segments and regions, increase investment in product innovation, increase the number of employees, and support merger and acquisition activities, to better meet "the needs of a rapidly changing market," the company said in a statement on Sunday.
Earnix cloud-based platform combines AI with advanced analytics that does modeling and simulations, and enables banking and insurance clients to give highly personalized price and product offerings to their customers in real time. Both insurers and banks need to respond to consumers who require rates and products that are tailored to their needs in a smarter and faster way. To do this, banks and insurance firms need to automatically process huge amounts of data.
JVP's Erel Margalit, right, and Earnix's Udi Ziv (Shahar Azran and David Garb)
In 2020, Earnix was recognized by New York-based data firm CB Insights as the "Market Leader for Predictive Analytics for Property & Casualty Insurers" and has been named one of "11 Insurtechs to Watch in 2021" by P&C 360.
Sign up for the Tech Israel Dailyand never miss Israel's top tech storiesNewsletter email addressSUBSCRIBE
By signing up, you agree to the terms
The investment "will accelerate the reach and impact" of the company's business, "assuring our ability to meet a broad range of industry needs, and to deliver the best personalized rates and products to every customer, every time," said Udi Ziv, CEO at Earnix, in the statement.
The firm has offices in North America, Europe, Asia Pacific and Israel.
"Customers across insurance and banking have a strong mandate to adopt new technologies and related processes so as to remain competitive," said Jonathan Rosenbaum, principal at Insight Partners, in the statement. The software as a service product offered by Earnix "is uniquely positioned to capture this demand to the benefit of their customers and the end consumers."
Earnix, which seeks to transform the insurance and banking industries, provides "the muscles and the brains for insurance and banking, as they move to real-time quotes and personalized products," said Erel Margalit, chairman of Earnix and founder and executive chairman of JVP.
How Does Link Building Work?
If you have wondered how link building works, you are not alone. It is an essential and very effective way to increase your website's and your business's visibility. Many marketers consider it the key to their success. Nevertheless, there are several different techniques you can use to get links to your website. The key to getting links to your site is to have excellent content and to ask others to link to your pages. But before you start a link-building campaign, you should know that it is not just a matter of asking for links. Here are some tips to help you build connections:
Content is the key
To gain traffic and establish your brand, you must know what are link building services. The better your content is, the more people will find and share it. This will result in higher rankings for your site and better chances of getting quality links.
There are many different strategies for attracting traffic and linking to your site. Some are easy, and some require more work. However, keeping your content relevant to your business and your target audience is critical. By using a comprehensive content marketing strategy, you can quickly obtain backlinks.
Links can be added organically and are an excellent way to promote your site. One of the best ways to do this is by creating resource pages. When you create a resource page, you will have plenty of linking opportunities on one page.
Get links from sites related to your niche.
Getting links from sites related to your niche is essential to your site's success. This will help you reach the top of the search results for your target keywords. Plus, you get the added benefit of gaining trust and visibility.
You can do this through guest posting. Guest posting allows you to connect with key figures in your industry. In exchange, you get a link to your website. The key to this method is to use the correct anchor text.
There are many different techniques you can use to acquire links. One of the simplest and most effective is guest posting. However, finding relevant groups in your industry can be challenging.
Optimize keywords on articles
If you're looking to get the most bang for your buck in link building, you've got to be prepared to put some effort into the process. This includes finding and attracting link-worthy content and figuring out how to optimize it to boost your SEO score. In the process, you'll have a shot at ranking higher in search engines such as Google and maybe even nabbing the coveted first-page slot for your website. But, of course, that's only if you do your research and take the time to make good decisions in the first place.
Optimizing content for link building is challenging, but with the right tools and resources at your disposal, you can get your website to the top of the search engine rankings in no time.
Ask for links
When looking to improve your link profile, ask yourself, "How to ask for links?" This is an integral part of the search engine optimization process. Links play a significant role in search rankings, and establishing a high position is crucial to a website's success.
There are several ways to build links. Social media networks are a great way to get your name out there. You can also make use of community outreach. These strategies may result in influential links.
If you need more time to do all the research on your own, you can hire a research team to do it for you. An expert can help you figure out how to create content that will inspire other web admins to link back.
Backlink audit tool
A backlink audit thoroughly evaluates all the links pointing to your site. It can help you to identify imperfect or broken links, find new opportunities for high-quality links, and improve your overall link-building strategy.
There are a lot of tools to choose from when it comes to backlink auditing. Some of them are free, and others cost money. Which one is best for you depends on your needs.
If you are looking for an automated tool that is fast and reliable, you should check out Semrush's free backlink checker. The device also includes a toxic score that can help you avoid penalties from Google.
Importance of Rifles in Hunting
There's an incredible variety of rifles to choose from. The key to selecting the best is your personal preferences, the type of terrain you will be hunting in, and the budget. It's also essential to consider safety issues associated with your weapon. An excellent way to ensure you have the safest rifle is to consider using a suppressor.
Pump action vs. lever action
Do you want to choose a pump action or lever action rifle? There are many different options, and selecting the correct one for your needs is essential. Depending on how you plan to use your tikka rifles United States, the decision can significantly affect your hunting experiences.
A pump action will allow you to insert a new cartridge without swapping your magazine. However, it could be stronger than a bolt action and needs to be more reliable.
If you're looking for a gun for home defense, a lever action will suit you well. They're easy to carry and quick to target. In addition, they're perfect for short and medium ranges. They're also effective when deer hunting.
Lever actions were first developed for the military during the Civil War. But, over time, they've become popular amongst hunters. As a result, many of today's models are based on designs from the late 1800s.
Suppressors
Regarding rifles, it's essential to know that suppressors can make a huge difference. Not only will they reduce recoil, but they will also help you shoot more accurately. They'll also improve your situational awareness in the field.
If you're new to hunting or want to take your skills to the next level, consider using a suppressor. This way, you can improve your shot placement and make it more comfortable to shoot.
Suppressors are also legal to use in most states. However, you'll need to undergo a background check and complete some paperwork. And you'll also have to pay a $200 tax for each suppressor.
But another benefit to hunting with a suppressor is that it will protect your hearing. Having good hearing is essential in the outdoors. But, unfortunately, a lot of hunters forego hearing protection because it's uncomfortable.
70 to 80 percent of hunters do not use hearing protection at all. Instead, some hunters carry earplugs in their pockets, and some wear them around their necks.
Ammunition for rifles
It would be best to have the proper ammunition to ensure you hit your target when hunting. Your rifle needs to be loaded with the correct bullet for the kind of animal you are pursuing. Using the wrong ammunition can cause severe injury or even death. If you don't know which type of cartridge to use, ask your gun store for advice.
There are two main types of hunting ammunition. They are dangerous games and miniature games. Each has different terminal ballistic performance criteria. These include weight retention, penetration, and reliability. Consider using lead-free bullets. In some areas, they are legal. Lead-free bullets are highly accurate.
Most of the popular bullets feature a polymer tip. It helps to prevent the bullet from deforming during the firing process. As a result, lead-free bullets are highly accurate and very popular with hunters.