Brazilian soccer legend Pelé dies at 82
Pelé, the Brazilian soccer legend who won three World Cups and became the sport's first global icon, has died at the age of 82.
"Everything that we are, is thanks to you," his daughter Kely Nascimento wrote in a post on Instagram, under an image of family members holding Pele's hands. "We love you infinitely. Rest in peace."
Pelé was admitted to a hospital in São Paulo in late November for a respiratory infection and for complications related to colon cancer. Last week, the hospital said his health had worsened as his cancer progressed. He died on Thursday from multiple organ failure due to the progression of colon cancer, according to a statement from Albert Einstein Hospital.
For more than 60 years, the name Pelé has been synonymous with soccer. He played in four World Cups and is the only player in history to win three, but his legacy stretched far beyond his trophy haul and remarkable goal-scoring record.
"I was born to play football, just like Beethoven was born to write music and Michelangelo was born to paint," Pelé famously said.
Tributes have been pouring in for the soccer legend. Pelé's first club, Santos FC, responded to the news on Twitter with the words "eternal" shared next to an image of a crown.
Ad Feedback
Brazilian footballer Neymar said Pelé "changed everything." In a post on Instagram, he wrote: "He turned football into art, into entertainment. He gave a voice to the poor, to black people and especially: He gave visibility to Brazil. Football and Brazil have raised their status thanks to the King!" he added.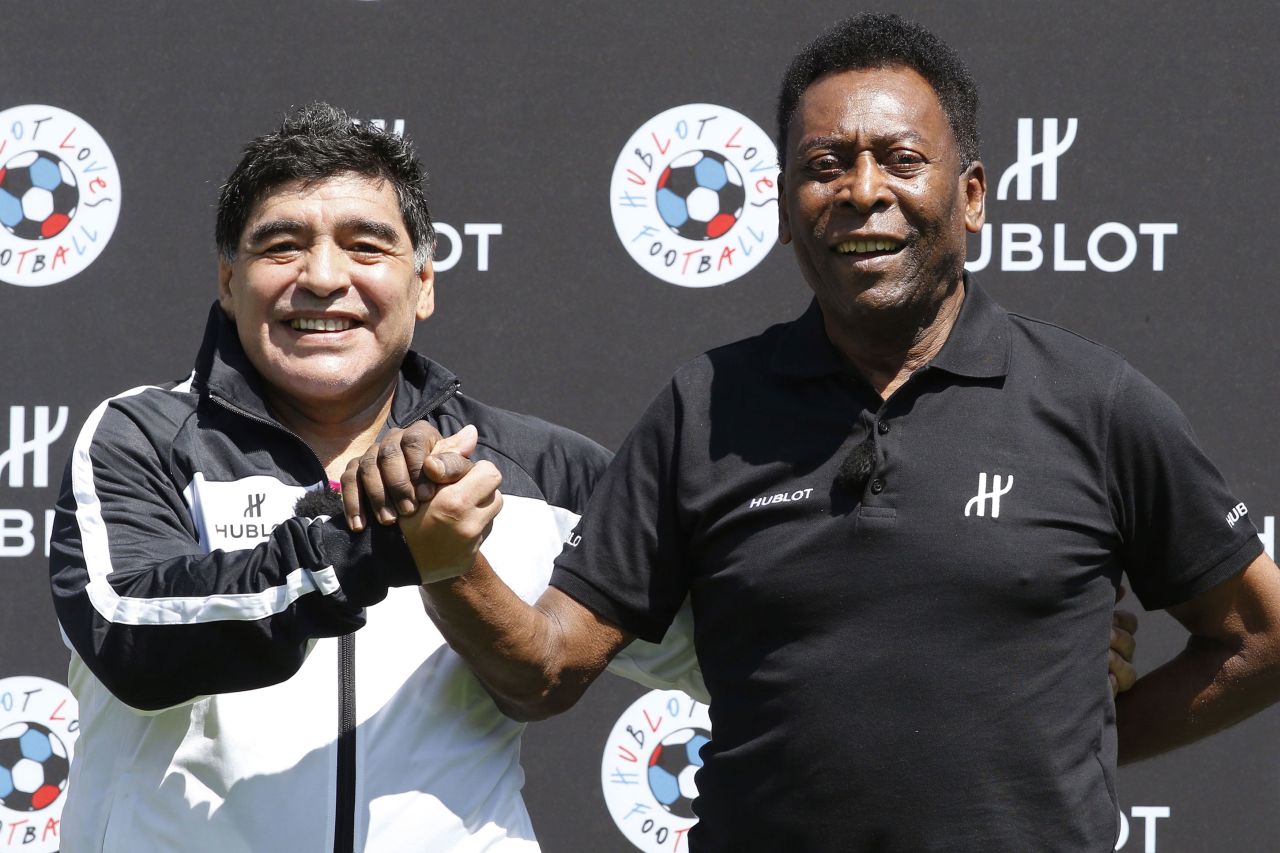 Pelé is carried off the field by fans after Brazil defeated Italy in the final of the 1970 World Cup.Alessandro Sabattini/Getty Images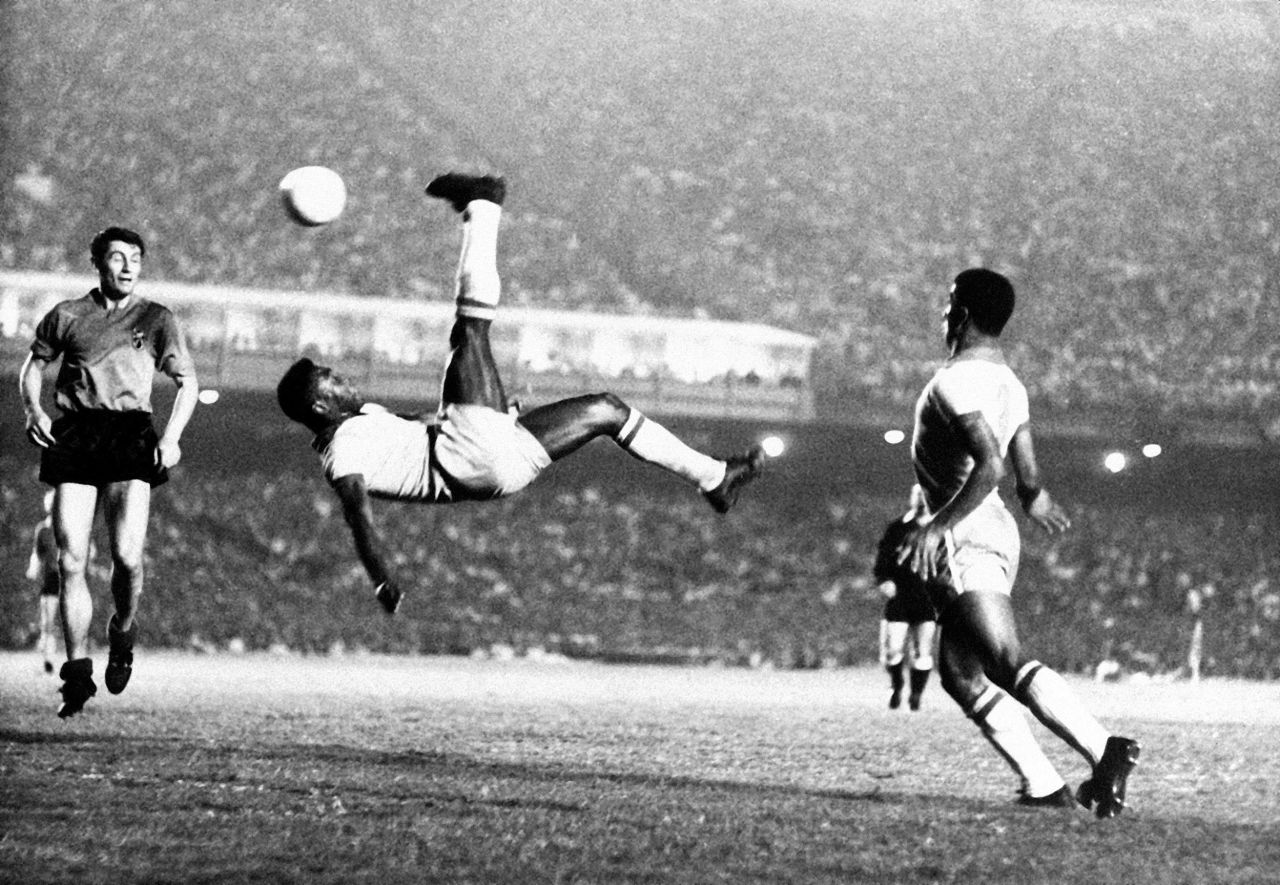 Pelé's life in pictures
1 of 35PrevNext
Portuguese star forward Cristiano Ronaldo sent his condolences to Brazil in a post on Instagram, saying "a mere "goodbye" to the eternal King Pelé will never be enough to express the pain that currently engulfs the entire football world."
Kylian Mbappé of Paris Saint-Germain said of Pelé's death: "The king of football has left us but his legacy will never be forgotten."
Former English soccer player Geoff Hurst wrote on Twitter of his memories of Pelé, calling the late star "without doubt the best footballer I ever played against (with Bobby Moore being the best footballer I ever played alongside). For me Pele remains the greatest of all time and I was proud to be on the the pitch with him. RIP Pele and thank you."
Brazil's incoming President Luiz Inácio Lula da Silva took to Twitter to pay his respects to Pelé, saying "few Brazilians took the name of our country as far as he did."
"As different from Portuguese as the language was, foreigners from the four corners of the planet soon found a way to pronounce the magic word: 'Pelé,'" Lula added.
A public wake will be held for Pelé on Monday at the Urbano Caldeira stadium, popularly known as Vila Belmiro and home to Santos football club, in Brazil's São Paulo state, according to a Thursday statement from Santos FC.
At dawn Monday, Pele's body will be moved from the Albert Einstein Hospital to the stadium. The soccer legend's coffin will be placed in the center of the pitch.
The wake at Vila Belmiro will continue until Tuesday 10 a.m. local time (8 a.m. ET), after which a funeral procession will carry Pelé's coffin through the streets of the city of Santos, including the street where Pelé's 100-year-old mother, Celeste Arantes, lives.
The cortege will continue to Pelé's final resting place, the Memorial Necrópole Ecumênica cemetery in Santos, where a private funeral, reserved for family members, will be held.
Dazzling ability
Pelé was born Edson Arantes do Nascimento in Três Corações – an inland city roughly 155 miles northwest of Rio de Janeiro – in 1940, before his family moved to the city of Bauru in São Paulo.
The genesis of the nickname Pelé are unclear, even to the footballer. He once wrote in the British newspaper The Guardian that it likely started with school classmates teasing him for mangling the nickname of another player, Bilé. Whatever the origin, the moniker stuck.
Exactly how many goals Pelé scored during his career is unclear, and his Guinness World Records tally has come under scrutiny with many scored in unofficial matches.Domicio Pinheiro/Agência Estado/AP
As a child, his first taste of soccer involved playing barefoot with socks and rags rolled up into a ball – a humble beginning that would grow into a long and fruitful career.
But when he first took up the game, his ambitions were modest.
"My dad was a good football player, he scored a lot of goals," Pelé told CNN in 2015. "His name was Dondinho; I wanted to be like him.
"He was famous in Brazil, in Minas Gerais. He was my role model. I always wanted to be like him, but what happened, to this day, only God can explain."
As a teenager, Pelé left home and began training with Santos, scoring his first goal for the club side before his 16th birthday. He would go on to score 619 times over 638 appearances for the club, but it is his feats in the iconic yellow jersey of Brazil for which he is best remembered.
The world first got a glimpse of Pelé's dazzling ability in 1958, when he made his World Cup debut aged 17. He scored Brazil's only goal in the country's quarterfinal victory against Wales, then netted a hat-trick in the semifinal against France and two in the final against host Sweden.
Brazil players hold a banner showing support for former Brazil player Pele after the FIFA World Cup Qatar 2022 Round of 16 match between Brazil and South Korea on December 5.Michael Steele/Getty Images Europe/Getty Images
"When Pelé scored the fifth goal in that final, I have to be honest and say I felt like applauding," said Sweden's Sigvard Parling.
For Pelé, the standout memory from the tournament was putting his country on the sporting map.
"When we won the World Cup, everybody knew about Brazil," he told CNN's Don Riddell in 2016. "I think this was the most important thing I gave to my country because we were well known after that World Cup."
Another World Cup victory came in 1962, although an injury sidelined Pelé for the tournament's later stages. Further injuries hampered his next campaign in 1966 as Brazil exited the competition after the group stage, but redemption came in 1970.
"Pelé was saying that we were going to win, and if Pelé was saying that, then we were going to win the World Cup," Brazil's co-captain Carlos Alberto said about the tournament.
That team – featuring the likes of Jairzinho, Gerson, Tostão, Rivellino, and, of course, Pelé – is regarded as one of the greatest ever assembled.
11 World Cup greats — as you've never seen them before
In the final – a 4-1 victory against Italy – Brazil scored arguably the most famous World Cup goal of all time, a sweeping, length-of-the-pitch move involving nine of the team's 10 outfield players.
It ended with Pelé teeing up Alberto, who drilled the ball into the bottom corner of the net. Brazil's mantra of jogo bonito (the beautiful game) has never been better encapsulated.
Pelé, who had considered retiring before the 1970 World Cup, scored a goal of his own in the final and a total of four over the course of the tournament.
"Before the match, I told myself that Pelé was just flesh and bones like the rest of us," Italian defender Tarcisio Burgnich said after his side's defeat in the final. "Later, I realized I'd been wrong."
The tournament capped Pelé's World Cup career but not his time in the spotlight. In 1975, he signed a $1.67-million-a-year contract in the United States with the New York Cosmos.
One of the greatest players
With his larger-than-life personality and extraordinary dribbling skills – a trademark of his game – Pele's helped the Cosmos win the North American Soccer League championship in 1977 before officially retiring from football.
The league, which attracted further big names like Giorgio Chinaglia and Franz Beckenbauer, wouldn't last, ultimately folding in 1984. But around the world, Pelé's influence endured.
He remained in the public eye through endorsement deals and as an outspoken political voice who championed the poor in Brazil. He served as a Goodwill UNICEF ambassador for many years, promoting peace and support for vulnerable children.
Health problems persisted for much of Pelé's later life. He got around with the support of a walker – an item he was filmed shoving around with disdain in a documentary released last year – and in September 2021, he underwent surgery to remove a tumor from his right colon.
Paris Saint-Germain and France national football team forward Kylian Mbappe (R) and Brazilian football legend Pele take part in a meeting at the Hotel Lutetia in Paris on April 2, 2019.Franck Fife/AFP/Getty Images
Pelé's cancer treatment continued over the past year. He was hospitalized in Sao Paulo in November as the 2022 World Cup was being played in Qatar, prompting an outpouring of support from the global soccer community and beyond.
Debate will inevitably rage about whether Pelé is the greatest player of all time – whether it is possible to compare Pelé's achievements to those of Cristiano Ronaldo or Lionel Messi, who have rewritten soccer's record books over the past 15 years, or to Diego Maradona, the late Argentinian star who captivated the footballing world in the 1980s and 90s.
In 2000, FIFA jointly named Maradona and Pelé as Player of the Century, but to some, the outright winner of the award should have been obvious.
"This debate about the player of the century is absurd," said Zico, who represented Brazil in the decade after Pelé's retirement. "There's only one possible answer: Pelé. He's the greatest player of all time, and by some distance, I might add."
Before Christmas, Pele's daughter posted a moving photo with father in hospital.Kely Nascimento/Instagram
Exactly how many goals Pelé scored during his career is unclear, and his Guinness World Records tally has come under scrutiny with many scored in unofficial matches.
In March 2021, he congratulated Portugal's Ronaldo for passing his "record of goals in official matches" – 767.
There is little doubt, however, that Pelé was, and always will be, football's first global superstar.
"If I pass away one day, I am happy because I tried to do my best," he told The Talks online magazine. "My sport allowed me to do so much because it's the biggest sport in the world."
source:https://edition.cnn.com/2022/12/29/football/brazil-pele-soccer-died-intl-latam-spt/index.html
Why Choose Mangasee123 for Your Manga Fix?
Mangasee123 for Your Manga Fix
In the ever-expanding world of manga consumption, finding a reliable and user-friendly platform is essential for enthusiasts looking to explore the vast realms of Japanese comics. One such platform that has gained considerable attention is Mangasee123. With a plethora of manga titles and a user-friendly interface, Mangasee123 has become a go-to destination for manga lovers. In this article, we'll delve into the reasons why you should consider Mangasee123 for your manga fix.
Extensive Manga Library: Mangasee123 boasts an extensive library of manga titles that caters to a diverse range of genres and tastes. Whether you're into action, romance, fantasy, or slice of life, you're likely to find something that piques your interest. The platform regularly updates its library to ensure users have access to the latest chapters and releases.
User-Friendly Interface: Navigating through Mangasee123 is a breeze, thanks to its user-friendly interface. The website is designed with the reader in mind, making it easy to search for specific titles, explore genres, and seamlessly move between chapters. The clean layout enhances the overall reading experience, allowing users to focus on the content without unnecessary distractions.
Free Access: Perhaps one of the most attractive features of Mangasee123 is that it offers free access to a vast collection of manga. Users can enjoy their favorite titles without the need for subscriptions or hidden fees. This accessibility makes Mangasee123 an ideal choice for manga enthusiasts who want to explore new series without breaking the bank.
High-Quality Images: The quality of images and scans can significantly impact the reading experience. Mangasee123 takes this into consideration by providing high-quality images for its manga titles. Crisp and clear visuals contribute to a more enjoyable reading experience, allowing readers to immerse themselves in the artwork and storytelling.
Regular Updates: Keeping up with the latest chapters is crucial for avid manga readers. Mangasee123 understands this and ensures that its library is regularly updated with new releases. This commitment to providing timely updates allows users to stay current with their favorite series and discover new ones as they are released.
Mobile-Friendly: In today's fast-paced world, being able to enjoy manga on the go is a significant advantage. Mangasee123 is mobile-friendly, making it easy for users to read their favorite manga on smartphones and tablets. The responsive design ensures a seamless transition between devices, allowing readers to pick up where they left off, whether at home or on the move.
FAQs
Is Mangasee123 free to use?
Absolutely! Mangasee123 is a free platform, allowing users to enjoy their favorite manga without any subscription fees.
Can I access Mangasee123 on mobile devices?
Certainly! Mangasee123 is optimized for mobile devices, ensuring you can indulge in your manga fix on the go.
How often does Mangasee123 update its manga collection?
Mangasee123 prides itself on timely updates, ensuring users have access to the latest manga releases regularly.
Are there any age restrictions on Mangasee123?
Mangasee123 is designed for readers of all ages. There are no age restrictions, making it a family-friendly platform.
Can I download manga for offline reading on Mangasee123?
Yes, you can! Mangasee123 allows users to download manga for offline reading, perfect for times without internet access.
How does Mangasee123 ensure the security of user data?
Mangasee123 prioritizes user privacy and employs robust security measures to safeguard user data.
Conclusion:
Mangasee123 stands out as a reliable and user-friendly platform for manga enthusiasts. Its extensive library, user-friendly interface, free access, high-quality images, regular updates, and mobile-friendly design make it a top choice for those seeking a comprehensive and enjoyable manga reading experience. Whether you're a seasoned manga reader or just starting your journey into the world of Japanese comics, Mangasee123 is worth considering for your manga fix.
bruce wilpon wife: A Glimpse into Their Love Story
Love stories have a unique way of captivating our hearts, offering us a glimpse into the lives of those who have found a deep and lasting connection. One such love story that has intrigued many is that of bruce wilpon wife. In this article, we delve into the details of their relationship, exploring the milestones, challenges, and the enduring love that has kept them together.
The Beginning:
Every great love story has a beginning, and for bruce wilpon wife, it all started with a serendipitous encounter. Whether it was through mutual friends, a chance meeting, or a shared interest, the couple found themselves drawn to each other in those initial moments. The chemistry between them, often described as palpable, laid the foundation for a journey that would span years.
Milestones and Challenges:
Like any couple, bruce wilpon wife have faced their fair share of milestones and challenges. From career shifts to personal growth, they have navigated the ups and downs of life hand in hand. It is often during these moments that the strength of a relationship is truly tested. Yet, it appears that their love has only deepened with time, proving that a strong foundation and commitment can weather any storm.
Shared Interests and Passions:
One of the keys to a successful and enduring love story is often the presence of shared interests and passions. Whether it's a love for travel, a common hobby, or a mutual goal, these shared pursuits can strengthen the bond between two individuals. bruce wilpon wife, like many couples, may have found common ground in their shared values and interests, contributing to the richness of their relationship.
Family Life:
Family life is a cornerstone of many love stories, and it is likely no different for bruce wilpon wife. The addition of children, if applicable, brings a new dimension to a relationship, creating a shared sense of purpose and responsibility. Navigating the complexities of parenthood together can deepen the connection between a couple and provide a sense of fulfillment.
Enduring Love:
What sets apart a love story that stands the test of time? Enduring love is often rooted in mutual respect, communication, and a willingness to grow together. bruce wilpon wife, through the years, have showcased a commitment to each other that goes beyond the superficial. Their love story serves as a reminder that, in a world where relationships are often fleeting, true and lasting love is still very much attainable.
Conclusion:
bruce wilpon wife love story offers us a window into the beauty of a relationship that has stood strong against the passage of time. Through shared experiences, challenges, and the ebb and flow of life, they have crafted a narrative of enduring love. As we celebrate their journey, it inspires us to cherish the relationships in our own lives, appreciating the beauty that comes with a love story written with commitment, understanding, and a shared sense of purpose.
Geekzilla Podcast: Unveiling the Wonders of Geek Culture
Introduction
In today's digital age, Geekzilla Podcast have become a cultural phenomenon, providing a platform for niche interests and communities to flourish. One such podcast that has gained a devoted following among geeks, tech enthusiasts, and pop culture aficionados is the "Geekzilla Podcast." This dynamic show is a treasure trove of all things geek, where hosts explore a wide range of topics, from comic books and video games to science fiction and technology. In this article, we'll dive into what makes the Geekzilla Podcast stand out and why it's a must-listen for anyone who proudly embraces their inner geek.
The Birth of Geekzilla
The Geekzilla Podcast was created by a group of passionate geeks who wanted to share their love for all things nerdy with the world. They saw a gap in the podcasting landscape for a show that could cater to a diverse audience of geeks and provide in-depth, insightful, and entertaining discussions on the topics they hold dear. Thus, Geekzilla was born.
Show Format
One of the strengths of the Geekzilla Podcast is its versatility in covering a broad spectrum of geek culture. The show boasts a variety of formats to keep things fresh and exciting. Here are some of the ways Geekzilla keeps its listeners engaged:
Deep Dives: The podcast often dedicates entire episodes to exploring a particular topic in great detail. Whether it's a breakdown of a popular comic book series, a review of a newly released video game, or a retrospective on a classic sci-fi movie, Geekzilla delves deep to satisfy the thirst for knowledge among its listeners.
Interviews: Geekzilla frequently hosts interviews with creators, industry professionals, and influencers from the world of geek culture. These conversations offer valuable insights and a behind-the-scenes look at what goes into the making of the content that geeks love.
Roundtable Discussions: The hosts of Geekzilla are known for their witty banter and insightful commentary. Their roundtable discussions on various subjects, from the latest superhero movies to the impact of emerging technologies, are both entertaining and thought-provoking.
Niche Topics: The podcast caters to a diverse audience, ensuring that there's something for everyone. Listeners can expect episodes that touch on obscure or lesser-known aspects of geek culture, ensuring that even the most niche interests are covered.
Passionate Hosts
The success of the Geekzilla Podcast can be largely attributed to its enthusiastic and knowledgeable hosts. These geeks are not only passionate about the topics they discuss but also well-versed in their respective fields. Their love for geek culture is infectious, and it's easy for listeners to connect with their genuine excitement and enthusiasm. Their camaraderie and witty banter make each episode feel like a conversation among friends, drawing in listeners and making them feel part of the geek community.
Community Engagement
Geekzilla Podcast is more than just a podcast; it's a thriving community of like-minded individuals who share their passion for all things geek. The podcast hosts actively engage with their audience, taking feedback and suggestions which helps in shaping the show's content. They also organize events and gatherings, both in-person and virtually. To strengthen the sense of community among their listeners.
Conclusion
The Geekzilla Podcast is a testament to the power of the podcasting medium. Where enthusiasts can share their passions and build a dedicated following. It's a hub for all things geek offering a mix of in-depth discussions expert interviews. And entertaining banter. If you're a fan of comic books. Video games. Science fiction. Or any aspect of geek culture. The Geekzilla Podcast is a must-listen. It's not just a podcast; it's a vibrant community that welcomes all geeks to join in the celebration of their interests. So whether you're a seasoned fan or a budding enthusiast. Give it a listen and unleash your inner geek with Geekzilla.